The Life and Times of Hubert Brooks M.C. C.D.
A Canadian Hero
---
Chapter 11: POST OLYMPIC EUROPEAN HOCKEY TOUR and
WELCOME BACK TO CANADA and
ANNIVERSARY REUNIONS
11.2 R.C.A.F. FLYERS RETURN TO CANADA
11.2.1 TRIP BACK TO CANADA
Bea met me in London. After our marriage she had gone back to Copenhagen with her best friend Lise Halling from Herfølge (Denmark) and to once again spend an enjoyable time in Tivoli Copenhagen. She'd also spent some time with her favorite cousin Ebba (Grøntved) Nielson from Hjørring and visited her mother Margrethe.
While in London we stayed at the Crofton Hotel, 13-16 Queens Gate, South Kensington, London SW7 5EN, England (located at Kensington and Hyde Park).
Queen Mary from Southampton to New York City
We found our way back to Southampton to board on March 31st the Cunard White Star Flagship, the Queen Mary, bound for New York. Once again we got to "enjoy" Tourist Class! There was a total of 1,713 passengers on board for this particular crossing.
Unfortunately the Queen Mary was not as big or as comfortable as the Queen Elizabeth which we'd taken on the way over to Europe. And more importantly, the weather on the way back was not as accommodating as on the way over. We left Southhampton around 4PM on March 31st and ran into a storm almost immediately, with huge ways rocking the ship. Heavy rain and sleet fell causing most of the players and passengers to loose whatever meals they had in their stomachs. The bad weather persisted April 1 and 2 with most passengers getting little sleep and unable to eat. My new wife Bea was sick as well and did not make an appearance out of our cabin until April 3rd. Much to her surprise I had not been affected by the storm at all. After this the weather calmed down a bit, but the storm had caused the ship to be about a day behind schedule.
Flyer Reg Schroeter Standing in Front of Queen Mary March 31, 1948
PHOTO Courtesy: Estate of Reg Schroeter via his son Tom
Johnny Weissmuller ("Tarzan") and His Fourth Wife Allene Gates Weissmuller
On Board R.M.S. Queen Mary April 1948
PHOTO Courtesy: Estate of Reg Schroeter via his son Tom
Birthe & Hubert Brooks On Board R.M.S. Queen Mary April 1948
PHOTO Courtesy: Hubert Brooks Private Collection

Walking The Deck of the Queen Mary April 1948
PHOTO Courtesy: Estate of Reg Schroeter via his son Tom

Flyers Schroeter and Boucher on the deck of the Queen Mary April 1948
PHOTO Courtesy: Estate of Reg Schroeter via his son Tom
Tuesday APRIL 6, 1948: Arrival in New York City
Press Photographers Board Queen Mary April 1948 Just Prior to Entering New York Harbor
PHOTO Courtesy: Estate of Reg Schroeter via his son Tom
Because of the bad weather and huge waves slowing our forward progress, we finally arrived in New York – one day late in the late afternoon of April 6, 1948.
The RCAF Flyer team disembraked from the Queen Mary to the sounds of whirring movie cameras and popping flash bulbs.
We were greeted aborad ship by Air Commodore D. E. Mackell of the RCAF who made the comment:
"When you left Ottawa last January I told you to win – you completed the assignment - bringing back the Olympic hockey crown lost to England 12 years ago!"
Frank Elkins in the Sports section of the NEW YORK TIMES wrote an article Ref: 11.1 on Wednesday April 7, 1948 titled:
"R.C.A.F. SIX HAILED UPON ARRIVAL HERE; Olympic Champions Honored at Celebration Before Leaving for Welcome at Ottawa"
Canada's ice hockey squad, considered the "ugly duckling" of the Dominion's Olympic team arrived here yesterday in the role of conquerors aboard the Cunard White Star Flagship, Queen Mary, especially proud of its world championship cup and individual gold medals, symbolic of Olympic honors.

The joyous return to these shores is a marked contrast to the departure of the R.C.A.F. Flyers who were considered too weak to represent Canada against the heavily favored entry from Czechoslovakia and the strong teams from Sweden, Switzerland and the United States.
Last night, prior to their leaving for Canada, the first of many celebrations to toast the meritorious record compiled by the Flyers in international competition, was held at the Canadian Club. (Editor Note: Actually held at the Waldorf Astoria Hotel) This afternoon, the citizenry of Ottawa, capital of Canada, will pay tribute to the array.

The players were officially welcomed to New York by Air Commodore D.E. MacKell of the R.C.A.F., the Hon. M.T. Stewart, Canadian Trade Consul, John C. Deacon, Commander of the Canadian Legion, and J.C. McMullin, president of the Canadian Club.

Returning with the Canadians yesterday was the former Miss Birthe Grontved of Denmark, who became Mrs. Hubert Brooks at the finish of the Olympics. Her husband is the flashy left winger of the Flyers, one of the members of the R.C.A.F. to earn the military Cross in the second World War.

Others of the squad to arrive yesterday included …..
Much to his delight, Patsy was met in New York by his wife Marina (Mary) and four year old daughter Rosalee (Lee).
At the dinner in New York City:
Coach Frank Boucher emphasized the sharp backchecking, strong defence and aggressive team spirit as the club's strong points.
Coach Boucher joyfully related how members of the USA Olympic hockey entry, the AHA chosen team, during voyage to England last January had offered to bet that the Americans would whitewash the Canadians by at least 10 goals. Although no bets were taken by the Flyers (still smarting from defeats by Canadian teams) - the Flyers beat the Americans 12-3 !
Team Manager S/L Watson said the team was the finest in self-discipline and group spirit - Czech officials had said they would set the actions of the Canadian team – on ice and off – as an example to their own clubs.
Watson termed the Czechs as the most hockey-crazy of all Europeans. Hundreds of persons would stand outside the Candians hotel in freezing weather before games to catch a glimpse of them. Seventeen thousand sat in an open air stands in Prgaue to see the Canada Czech match.
APRIL 7, 1948: Train from New York City to Montreal and then to Ottawa
On April 7th we travelled by train back to Canada accompanied by Air Commodore Dave MacKell.
Hubert Brooks and new wife Birthe on train from New York to Ottawa's Union Station April 7,1948
PHOTO Courtesy: Hubert Brooks Private Collection
We were welcomed with the typical Canada Customs welcome that has been extended to all returning citizens throughout the decades – past and present– assumption of guilt until every inch of luggage and person has been searched. When the accompanying press started to photograph this "perp search" the Custom agents decided that this was not the time and the photo–opportunity to be seen to be so zealous – no matter how bored they had been prior to our arrival at the border.
A local Ottawa radio station (CFRA) reporter boarded the train at a brief stop at Windsor Station in Montreal while we were travelling through Quebec to Ottawa, and went about taping interviews with each of the players.
We had left Canada on Jan. 6th and won gold on Feb. 8th, but we didn't set foot on Canadian soil again until April 7th, and what a homecoming it was!
We were bringing back to Canada the coveted Olympic title, 17 Olympic gold medals, and the World's Amateur Hockey Cup.
Wednesday April 7, 1948 Arrival Union Station Ottawa and Parade Through Downtown Ottawa
We arrived at Union Station in Ottawa about 1 PM and were greeted by a crowd of well–wishers to the full blast performance of the R.C.A.F. Central Band assisted by the RCMP Band playing "Captains of the Clouds."
Too tired to be exuberant, but throughly happy we were home at last. Almost every member of the team had been sick at some point during the tour and only a few ate regular meals. Most of the players were sporting facial scars from the battles on the ice and almost every man on the team required stitches to close cuts.
There to formally greet us was Defense Minister Brooke Claxton, Air Vice Marshall A. L. Morfee - representing chief of the air staff Wilf Curtis who was out of town commented on " the fine job you have done for Canada and the Air Force". Mayor Lewis of Ottawa had a handshake for each of the team members and commented; " Ottawa is proud of the job you boys have done. There were also a number of other other senior air force officers there to greet us as well along with "player selection coach" George "Buck" Bouchard. (Air Commodore D. E. Mackell who had greeted us on board the ship in New York habor and made the train trip from New York to Ottawa was also obviously present as well.)
Flyers Return Home to Ottawa's Union Station - Welcome Banners Drap Train Station Entrance
- note RCAF Central Band in Photo Forefront
Prime Minister King was unable to be present to greet the RCAF Flyers on their return, but he sent greetings through Defence Minister Claxton.

"RCAF Flyers have brought honor to themselves and to our country in their splendid performance at the Olympic Games.
Conduct of the team in achieving their victories in the Olympic Games and throughout their competition abroad has maintained standards of sportsmanship of which Canadians may be proud.
Their crown of victory symbolizes Canada's continued supremacy in our national sport."
The scene became somewhat "riotous" (as the local newspapers stated) with the offical greeting over and the police barracades knocked over and the team surrounded by wives, sweethearts and girlfriends of the players.
Birthe and Hubert Brooks at Union Station Ottawa Ontario
PHOTO Courtesy: Hubert Brooks Private Collection
A fleet of Buick convertibles were ready to transport us to downtown Ottawa in a motorcade for a formal welcome home parade. We proceeded from Union Station up Rideau street swinging north of the War Memorial and down Elgin Street with motorcycle outriders cutting a swathe through traffic. Noon-time crowds lined the flag drapped route in front of the Chateau Laurier Hotel and along the War Memorial as the parade turned down Elgin Street. On Elgin the crowds swelled from Queen Street right down to National Defence Headquarters saluting base. At National Defence Headquarters at Elgin and Gloucester, Defense Minister Brooke Claxton took the salute. Also present on the saluting stand were Air Vice Marshall Morfee (representing Chief of Air Staff Wilf Curtis – who was out–of–town), Ottawa Mayor Stan Lewis and our old friend George "Buck" Boucher. The parade then continued down Elgin to RCAF Beaver Barracks where the Flyers were luncheon guests of Air Force officials.
Front Row Left to Right: Ottawa Mayor Stanley Lewis, Air Vice Marshal A.L. Morfee,
Defence Minister Brooke Claxton, Buck Boucher
PHOTO Courtesy: Hubert Brooks Private Collection
PHOTO Courtesy: Estate of Pat Guzzo via his daughter Mary Rose
---
Ottawa's The Chateau Laurier Hotel's front façade had a Welcome Home R.C.A.F. Flyers Olympic Champions banner.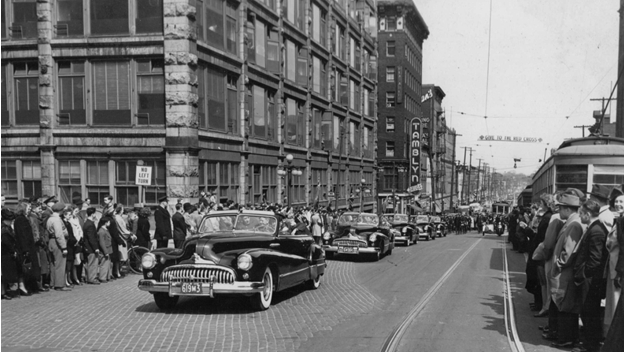 ---
Wednesday April 7, 1948 WELCOME HOME LUNCHEON at BEAVER BARRACKS
Following the parade and our long train journey from New York City, the RCAF (Air Vice Marshall A.L. Morfee) hosted a "welcome home" luncheon in our familiar surroundings of the comfortable lounge of the Beaver Barracks. This luncheon was billed to be a less formal affair than the formal reception planned for Friday night.
We were happy to see Murray Dowey and George Mara who had travelled from Toronto to rejoin the team for the celebrations and the All Star Exhibition Game this coming Saturday at the Auditorium.
There were approximately 240 mess members who greeted us upon our arrival at Beaver Barracks. Multiple, mutiple questions asking for first-hand details.
Although the luncheon had been billed as a informal low key affair, there were still the requisite speeches:
1948 Winter Olympic Souvenir Medal Presented to Beaver Barracks Sergeants Mess president, vice-president and secretary, and also to W/O Colin Campell, W/O W H Fader and F/S M W Gromoll
PHOTO Courtesy: Hubert Brooks Private Collection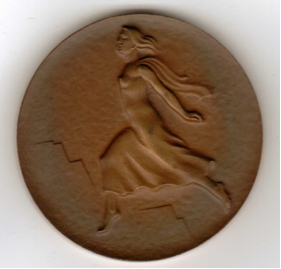 Warrant Officer Colin Campbell, president of the mess committee, officially welcomed the Flyers and then called on coach Frank Boucher to re-introduce the RCAF Flyer Team.
Air Commodore D. E. Mackell, Deputy Air Member, was on hand to offer congratulations to the team
Group Captain S. A. Greene, representing the Air Officer Commanding RCAF Maintenance Command along with S/L A. H. Giguere, Maintenace Command camp commandant offered congratulations
S/L Sandy Watson, Flyers manager, thanked the boys of Beaver Barracks for the encouragement they had given from the very beginning and through the Olympic team's "darkest moments".
Sandy took the occasion to present engraved cigarette cases to A C Mackell, S/L Mason and George Boucher, Frank Boucher's father and the man who made the final selection for the Flyers team.
Bronze medallions, souvenirs from St Moritz, were presented by S/L Watson to the president, vice-president and secretary of the Sergeants Mess, and also W/O Colin Campell, W/O W H Fader and F/S M W Gromoll respectively on behalf of the team to their friends at Beaver Barracks.
George Boucher spoke to the gathering and told how proud he was to have been asked to assist the team and voiced the opinion that "the Flyers had performed their duty to the highest satisfaction of everyone in Canada."
A Sidney Dawes president of the Canadian Olympic Association, wired that he regretted his inability to attend and expressed his heartfelt congratulations.
A buffet luncheon followed the official welcome.
By late afternoon the parade, the speeches and the handshakes were over and we could finally relax a little in our digs at Beaver Barracks.
Frank Boucher called for practices for Thursday and Friday in preparation for Saturday's game against the NHL QSHL All-Stars. The Flyer's were not over-anxious about playing on Saturday but wanted to work together for one more game in front of the home town crowd.
A Number of RCAF Flyers Outside Beaver Barracks in Ottawa
With World Championship Trophy and Team's Prized Possession of Dowey's Hockey Goalie Stick
(This Goalie's Stick Only Let 5 Pucks Passed It During the Olympics and It Not Only Survived All the Games But It is the
Only Survivor of More than 300 Sticks Brought over to Europe - George McFaul ended up keeping the stick - should be in the Hockey Hall of Fame)

Front Row Left to Right: George McFaul (Trainer), Patsy Guzzo, Irwing Taylor, Orval Gravelle, Ted Hibbard
Back Row Left to Right: Frank Boucher (Coach), Sandy Watson (Manager), Hubert Brooks, André Laperrière,
Roy Forbes, Ab Renaud, Reg Schroter, Pete Leictnitz, Andy Gilpin
April 7, 1948: RCAF Flyers at Beaver Barracks in Ottawa For Celebration Luncheon
Photos Courtesy of: Estate of Andy Gilpin
---
THURSDAY APRIL 8, 1948 SERGEANT'S MESS: INFORMAL DINNER TO HONOR R.C.A.F. FLYERS
Follow the LINK to read further regarding this informal dinner in honour of the Flyers.

An article that appeared in the Ottawa Citizen that day also sung the praises of the Flyers from Hockey's Elites.
---
FRIDAY APRIL 9, 1948 BEAVER BARRACKS : FORMAL DINNER TO HONOR R.C.A.F. FLYERS
A few nights later, at the the Allied Forces HeadQuarters Officers Mess in Ottawa, we were honored at a formal dinner hosted by Governor General Viscount Alexander. Each of the Flyers was presented with a gold signet ring which was engraved "World Champions".
The elaborate menu that had been prepared for us. On the menu, as seen above, they had the official picture of the team, a list of the scores for each of our games and oh yes–the menu itself! It was quite the day.
Sandy Watson presented Chief of the Air Staff Wilf Curtis with the World Championship Cup that we'd picked up in Prague (a Czech team had won it in 1947 - a tournament that Canada had not participated in). (In 1948 the agreement amongst nations had been that the Olympic and World Championships would be one and the same.)
(It was in Prague that the RCAF Flyers banished any lingering doubts of their superiority over the Czech Olympic Club which had equalled the Canadian's team record in games won and tied, but were edged out in a goal average count under provisions of the IIHF. The Flyers beat the Czechs twice in exhibition games without the services of Halder and Mara.)
RCAF Flyer Team Manager S/L Sandy Watson presents the World Amateur Hockey Cup to
Air Marshall Wilf Curtis, chief of air staff. Looking on is Governor General Viscount Alexander.
PHOTO Courtesy: Hubert Brooks Private Collection
The following newspaper article sums up the celebration dinner quite nicely.
News Article about April 9, 1948 Celebration Dinner for RCAF Flyer Olympic Champion Team at Officers Mess Beaver Barracks Ottawa
Image Courtesy: Ottawa Journal April 10, 1948 page 25
Dr. Victor Nef, the Swiss Ambassador to Canada, got a good laugh with his remarks at the banquet when he opened with " I'm not here to throw snowballs at you" - a reference to the incident during the Olympic hockey game when the Swiss fans threw snowballs at the Flyers.
Hubert Brooks being Congratulated In Turn With Rest of Flyer Team
PHOTO Courtesy: Hubert Brooks Private Collection
The CAHA presented each of the Flyers with a Parker pen and pencil set.
Hubert Brooks is standing 4th from left in back row
Back Row Left to Right: Unknown, Murray Dowey, Pete Leichnitz, Hubert Brooks, Frank Dunster, Ab Renaud, George Mara, Louie Lecompte, Ross King, Sandy Watson, Buck Boucher, Frank Boucher, George McFall, Unknown
Front Row Left to Right: Reg Schroeder, Red Gravelle, Roy Forbes, Patsy Guzzo, Ted Hibbard

PHOTO Courtesy: Hubert Brooks Private Collection
---
SATURDAY APRIL 10, 1948 OTTAWA AUDITORIUM:
FINAL CHARITY EXHIBITION HOCKEY GAME
R.C.A.F. FLYERS vs. N.H.L. - Q.S.H.L. ALL STARS
After a grueling three-month grind in Europe, not to mention the months of practice for some of us leading up to the Olympics, it was only fitting that our final hockey game as RCAF Flyers should be held at the Ottawa Auditorium in front of our "home town" (at least for some of us) fans.
It was fitting as well that the proceeds from the game were to go to the Canadian Appeal for Children Fund Charity
Our opponents for this Saturday night exhibition game were a truly All-Star collection of National Hockey League (NHL) and Quebec Senior Hockey League (QSHL) players.
The N.H.L. - Q.S.H.L. ALL STAR hockey team was comprised of:
Bill Cowley, former star of Boston Bruins was to be the coach of the All-Stars
Louis St. Denis was to play in nets
On defence was; Frank Eddols (from the NY Rangers), Roy Giesebrecht, Bernie Limoges, Gordie Bruce, Doug Harvey (Montreal Canadiens)
Forwards are; Buddy O'Connor (the most discussed NHL player of the season whose appearance was approved by Ranger Manager Frankie Boucher …nephew of Frank Boucher), Jimmy Peters of the Boston Bruins, Phil Watson of NY Rangers, Flemming Mackall with Pittsburgh Hornets, Pete Morin the Quebec league's leading scorer is coming from Montreal Royals, Conny Brown and Marcel Besette will represent Valleyfield, Hal Dewey and Phil Maloney from Shawinigan Falls, Gordie Bruce from Hershey Commandos, Howie Riopelle, Phil Maloney, and Alan Kuntz
Sid Smith from Toronto Maple Leafs was a late scratch to the All-Star lineup due to an injury sustained in an earlier NHL playoff game.
Flyers were without the services of our forwards Wally Halder who was injured in a league game in Toronto and did not make the trip and George Mara was forced to return to Toronto on business early Saturday.
Stan Rooke was added to the Flyers lineup to make up for the absence of Halder and Mara.
Defence Minister Claxton dropped the ceremonial first puck before 5,000 fans at the Ottawa Auditorium. We kept pace until the thrid period when the All-Stars pulled away with the game.
All-Star goalie Louis St. Denis had a hat trick of sorts ..... an over-entusiastic fan tossed a fedora on the ice early in the third period and St Denis failed in three tries to throw it over boards ....... St Denis was finally assisted by Referee Billy Boucher .... The RCAF Central Band provided entertainment between periods .... Dowey thought he was seeing things late in the game ....... With less than a minute left the All-Stars streamed off their bench to take part in an all out attack on the RCAF Flyer goalie ..... the Flyers then followed suit and the ice was a melee of players and then fans joined in....
Although Murray Dowey was once again brilliant in nets, and although Ted Hibberd midway in the first period gave us a brief lead and we kept pace with the All-Stars until the third period, we lost our final exhibition game 6–3 but at that stage not too many people paid attention and we were happy it was now all over.
External Affairs Minister St. Laurant was also on hand and late in the game received the check for the proceeds of the benefit on behalf of the Canadian Appeal for Children Fund Charity.
---
SUNDAY APRIL 11, 1948 BEAVER BARRACKS
Just before we disbanded we got together to disperse all of the wonderful gifts and momentos that we had received on our post–Olympic tour.
Center right in the photo below you see the bust of Czech (non–Communist) Foreign Affairs Minister, Jan Masaryk, which was presented to me during my midnight sojourn in Czechoslovakia.
Trophies, Gifts and Momentos Presented to RCAF Flyers Hockey Team during 1948 Post Olympic Hockey Tour
PHOTO Courtesy: Hubert Brooks Private Collection
We drew numbers out of a hat to determine who picked first. My friend André Laperriere got to draw first!
Fittingly, to my great amusement, Sandy selected the bust of Jan Masaryk (the momento my former Polisk AK army underground colleague then Czech Resistance Colonel Wróbel had given me in our midnight rendezvous). Sandy could laugh about it now!
S/L Sandy Watson made some good summary comments to a local Ottawa Journal journalist perhaps worth repeating;
"The boys have all lost a certain amount of weight. Some of the fellows, like Irving Taylor and myself, lost as much as 10 to 15 pounds.
It wasn't because we didn't eat well, we were treated marvelously everywhere we went. I think it was just the strain of everything, playing nearly every night and travelling between games.
I think the boys will agree with me when I say we received the best treatment in Switzerland. The food was wonderful and plentiful and the people loved us. The poorest food we got was in England. It was the best they had and we were grateful but they just didn't have the variety of other countries.

Another favorite spot for us was Czechoslovakia. You have no idea what rapid fans those Czechs are. Thousands and thousands jam the rinks for every game and the roar would drown anything you ever hear at the Auditorium. They applaud all good plays and on the whole are excellent sports.
Another thing that surprised us was that we were given a special Diesel train for all or travels in Czechoslovakia and General Ambrus (Slovak fighter pilot who flew with the Royal Air Force during the Battle of Britain) formerly an official in Ottawa, was at the airport at Prague to greet us.

European papers went overboard for us. Czech papers ran streamers, some of them in broken English; front page spreads, caricatures and in Prague they even put out a special edition for us.
When we left a newspaper headlined; "Goodbye Canada you are good sports."

Air Force headquarters in London handled all our mail. They knew where we were at all times and just shot the letters out to us or to the legations, then in turn delivered them to us at our hotel.

For the most part the rinks were very good. We played in two indoor rinks, one in Paris and the other in The Hague. The remainder of our dates were arranged for outdoor arenas. However, even the outdoor arenas had artificial ice and playing conditions were fine. The only rink we really wanted to be in good shape, wasn't. That was at St Moritz, the site of the Olympic matches. It was natural ice there and we were forced to play our games about eight o'clock in the morning before the sun did too much damage to the already soft ice surface.
In one of the games we played in snow, and the strategy was to golf the puck out, chase after it and golf it again. In that particular efforts we beat Switzerland 3 -0.

The referees were honest enough but they interpreted the rules differently. Each country followed their own style and, of course, were just out on a limb. Our style of playing did not fit in at all with the European customs and we had to readjust the whole setup.

The most serious injuries were Louis Lecompye's fractured cheekbone and Goalie Ross King suffered a bad smash in the mouth which required several stitches and he lost two front teeth."
Orval Gravelle, the carrot- topped Aylmer speedster, who had become a favorite in Europe, commented to the same journalist;
"I wouldn't trade my experience for a million dollars. All of the other fellows lost weight. But not me. I gained six pounds. There was always plenty to eat and I sure got my share. As for the team, I think it was spirit and drive which carried us through. Most of the teams were bigger than us, but we had a saying that we used to try to put into practice, 'Smother them with science.' It always worked."
Patsy Guzzo commented;
"Hockey in Europe is played with little body contact and any roughness results in a penalty, which is immediately increased if the offender talks back to the referee.
This was the first lesson we had to learn in Europe.
During the games, some of our players were criticized for being rough, and sometimes we were given numerous penalties, and these of course were played up by the newspapers. But by our standards, we never saw what we considered a rough game.
Wally Halder, who played through his entire Toronto University career without a single penalty, was nicknamed "The Brute" and described as vicious by some segments of the European press.

On the other hand the Flyers also received many flattering tributes. In Sweden for example, one official said jokingly said that Canada didn't need to send trained diplomats to improve relations, 'Just send back the RCAF hockey team'. "
Patsy Guzzo also commented; "Just tell all of the baseball and softball teams to leave me alone for a while. Right now I want to rest."
And so did we all !
Every man in the service was given two weeks' leave following which the permanent force men will return to duties.
Frank Dunster, Orval Gravelle and Patsy Guzzo all planned to remain in the RCAF.
Those people on reserve would then report back to their "civvy" jobs.

Ab Renaud, of Westboro, employed by the Department of Agriculture intended to go back to work Monday! Pete Leitchnitz, a civil servant with the Income Tax Department also intended to report back Monday.
We officially disbanded on April 11, 1948.
RCAF Flyers Disband on April 11, 1948
Hubert Brooks is standing located 2nd Row 2nd from End in White Sports Jacket
PHOTO Courtesy: Hubert Brooks Private Collection
It had cost the CAHA approximately $9,000 CDN to send the R.C.A.F. Flyer team to compete at the Olympics.

John F."Bunny" Ahearne, general secretary of the IIHF (and also representative for the Canadian CAHA) reported on March 31, 1948 that the total transportation and hotel costs for the RCAF Flyer Olympic hockey team during its nearly three-month European tour totalled an estimated £9,000 ($36,000) and the amount paid to him for a party of 20 - 17 players, a coach, manager and trainer - totaled £6,151. The remainder would be made up by the hockey federations of Europe where the Flyers played.
And that was it.
Our moment of glory back in Canada had been sweet, but short lived.
Memories to last a lifetime.
In the end what matters is that when everybody said it couldn't be done the R.C.A.F. Flyers went ahead and did it.

A lot of us, with some bias perhaps, believe that it was one of the greatest stories in Canadian sport – ever!
---
The Life and Times of Hubert Brooks M.C. C.D.
---
Copyright © 2011, 2012, 2013, 2014, 2015, 2016, 2017, 2018, 2019 Ralf Brooks, All Rights Reserved