The Life and Times of Hubert Brooks M.C. C.D.
A Canadian Hero
---
Chapter 6: Missing Research & Enquiry Service – M.R.E.S.
Section 6.11: Down Time While With No 3 M.R.E.U. in Scandinavia
Obviously M.R.E.S. Search Officers were encouraged to take leave from time to time. The high tempo job demanded it to keep one's sanity. Unit "procedures" encouraged it.

I managed to play a little hockey while in Copenhagen with the Kobenhavns Hold hockey team.

























ROUGH TRANSLATION: Canadian Ice Hockey Player, Pilot Officer Hubert Brooks, visited the lake at Peblingesoen the other day.
Canadians are the world's finest Ice Hockey Players and Brooks was no exception.
Brooks will star with the Kobenhavns (Copenhagen) Hold against Oslo and Stockholm the 3rd and 10th February when the weather becomes cold again.
Here we see Brooks stick–handle.
PHOTO: Copenhagen Feb 1946: Hubert Brooks (Player at Far Right) with Kobenhavns Hold Hockey Team
(For the purists: Brooks left handed but holding curved left handed stick in right hand for opening ceremony!)
PHOTO Courtesy: Hubert Brooks Private Collection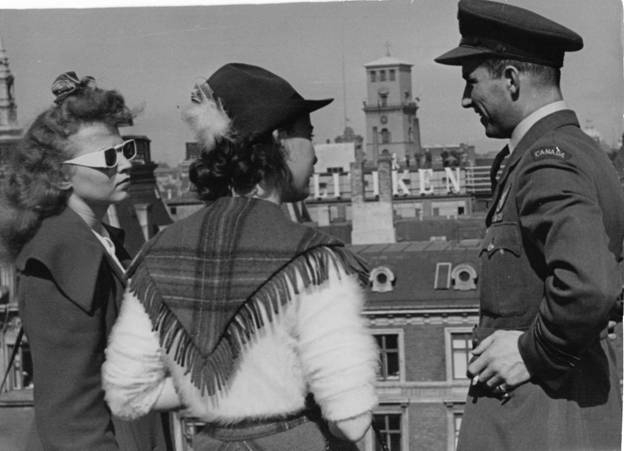 One weekend I met my future wife–to–be Birthe (Bea) Grontved at a party in Copenhagen. Bea was born in Copenhagen and after the war had got a job with the American Occupation Forces based in Frankfurt Germany working to reunite dislocated families.
One weekend she was home in Copenhagen visiting one of her good friends E. Crowe and the two of them had decided to go to the same party I was attending. We met fell in love and each time I was on leave and she was back in Copenhagen we saw each other.
PHOTO: Birthe Grontved and Hubert Brooks in Copenhagen
PHOTO Courtesy: Hubert Brooks Private Collection
On one weekend leave, I was able to nip down to Scotland and visit my friend, and fellow Polish AK fighter John Duncan.
John had recently married and he seemed quite content with being retired from the military.
PHOTO: John Duncan and Wife
John was the Scottish soldier that fought by my side in Poland with the AK Underground Army

PHOTO Courtesy:
Hubert Brooks Private Collection
---
The Life and Times of Hubert Brooks M.C. C.D.
---
Copyright © 2011, 2012, 2013, 2014, 2015, 2016, 2017, 2018, 2019 Ralf Brooks, All Rights Reserved