The Life and Times of Hubert Brooks M.C. C.D.
A Canadian Hero
---
Chapter 11: POST OLYMPIC EUROPEAN HOCKEY TOUR and
WELCOME BACK TO CANADA and
ANNIVERSARY REUNIONS
11.4 RCAF Flyer Anniversaries / Get Togethers/ Commemorative Articles, Audio & Video Clips
R.C.A.F. Flyer Tie Clip
It was said that only 20 Tie Clips were made at the time exclusively for team members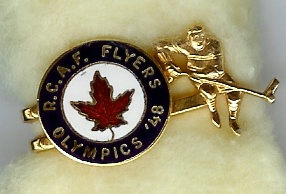 It's a vanished world now, the Olympic hockey scene of the 1940's. Our team was never in the same league in terms of hockey skills as today's NHL superstars.
International competition was truly amateur in those days.
The Flyers are older and greyer now. The fleet footer skaters of yesteryear have slowed a pace or two. For a few the final overtime whistle has sounded.
Nevertheless, there have been a number of anniversaries that have been celebrated, awards bestowed, and retrospective articles written – not to mention friendships that have lasted a lifetime.
Air Force Day Saturday June 12, 1948 RCAF Flyers Play Softball vs RCAF Rockcliffe
1948-1949 Ottawa City Hockey League / 1949-1950 RCAF Intermediates / February 1952 Brooks Guzzo Best Wishes Edmonton Mercurys
After the RCAF Flyers disbanded, most of us went back to playing hockey for the individual teams from which we originally came from (unless of course compromised by new RCAF postings).
For example, for the 1948-1949 season I played for the RCAF hockey team in the Ottawa City League along with a number of former Flyer team mates. Playing against us were also former Flyer team mates! That season the RCAF Flyers also won the Interservice Crown.
For the 1949-1950 season, Patsy Guzzo got me involved with a team called the RCAF Intermediates which worked a lot better with my work schedule.
| | |
| --- | --- |
| 1948-1949 Ottawa City Hockey League Air Force Hockey Team | 1949-1950 RCAF Intermediates in ODHA |
1951 & 1952 RCAF Flyer Anniversaries
February 1952 Patsy and I thought it would be a nice gesture to send "best wishes" on behalf of the RCAF Flyers to the Edmonton Mercury hockey club then in Norway contesting the winter Olympic hockey championships.
3rd ANNIVERSARY 1951 R.C.A.F. FLYERS Commemerative Cartoon as drawn by Pat Guzzo
(Up until the mid 1970s, it was quite common in Paris to have urinals on the main streets)
PHOTO Courtesy: Estate of Andy Gilpin

4th ANNIVERSARY 1952 R.C.A.F. FLYERS Commemerative Cartoon as drawn by Pat Guzzo
PHOTO Courtesy: Estate of Andy Gilpin

February 22, 1952
I was pleased to attend the wedding of my friend W/C Dr. A.G. "Sandy" Watson to Patricia Jane Brown early June of 1953.
10th Anniversary Ottawa March 15, 1958
10th ANNIVERSARY 1958 R.C.A.F. FLYERS Commemerative Cartoon
as drawn by Pat Guzzo
PHOTO Courtesy: Estate of Andy Gilpin
20th Anniversary Ottawa March 15, 1968
The R.C.A.F. Flyers celebrated their 20th Anniversary with a QHL–NHL old pros on March 15th at (Ottawa's) Civic Center in a benefit game for the family of the late young player Bruce Draper.
20th ANNIVERSARY 1948 – 1968 R.C.A..F FLYERS PHOTO
Orange Line Identifies Hubert Brooks in Photo
PHOTO Courtesy: Brooks Private Collection
Bruce Draper Benefit Game Mar 15th in Ottawa's Civic Centre
NEWS SUMMARY
The 1948 R.C.A.F. Flyers and Ottawa's Old Pros, a little heavier and thinning on top, showed 4,000 hockey fans here March 16, that they still know how to use a hockey stick, after all of these years. The airmen, 1948 Olympic champions, lost a squeaker to the local ice veterans 4–3.
It was the 20th reunion for the Flyers, but more importantly it was the Bruce Draper benefit game. Draper a young Ottawa athlete died earlier this year after a long illness.
The game produced some starting rule changes; penalties were only 1 minute, and bodychecking and slap shooting was not allowed.
Lt–Gen F. R. Sharp, vice–chief of defense staff, dropped the puck during opening ceremonies and with him representing the forces were Cols. Yarnell and Powell.
Three members of the 1948 Flyers still serving in the forces are Sgt. Red Gravelle, base Portage La Prairie ; CWO Andy Gilpin, Mobile Command ; and Lt–Col. Hubert Brooks, CFHQ.
Lt–Gen. Sharp Passes on a Few Pre–Game Tips to 4 R.C.A.F. Flyers
Prior to Game Against Old Pros in Ottawa
Left to Right: Lt–Gen. F. R. Sharp, vice–chief of the defense staff;
Lt–Col. Hubert Brooks, CFHQ; CWO Andy Gilpin, Mobile Command;
Sgt. Red Gravelle, base Portage La Prairie, Team Coach Frank Boucher
PHOTO Courtesy: (Canadian Forces Photo)
Ottawa Based Crew Informal Get Togethers
From time to time those of us in the Ottawa area would informally get together to reminisce.
Ottawa Based Flyers Get Together
Back Row Left to Right: Sandy Watson, Andy Gilpin, Frank Dunster, Unknown, Reg Schroeder, Ab Renaud, Hubert Brooks
Front Row Left to Right: Ted Hibbard, Patsy Guzzo, Frank Boucher

PHOTO Courtesy: Hubert Brooks Private Collection
Ottawa Based Flyers Get Together
Back Row Left to Right: Ted Hibbard, Sandy Watson, André LaPierierre, George McFalls, Frank Dunster, Ab Renaud, Hubert Brooks
Front Row Left to Right: Frank Boucher, Patsy Guzzo, Reg Schroeder, Red Gravelle

PHOTO Courtesy: Hubert Brooks Private Collection

Ottawa Based Flyers Get Together
Left to Right: Hubert Brooks, George McFall (Trainer), Frank Boucher, Frank Dunster

PHOTO Courtesy: Hubert Brooks Private Collection
Circa March 1967
November 1971: The 1948 RCAF FLYERS Inducted Into Armed Forces Sports Hall of Fame
25th Anniversary
It was Flyer coach Frank Boucher who prepared the commemorative poem to celebrate our 25th Anniversary.
Double Click the CACHED LINK to enjoy an archived copy.
30th Anniversary February 1978
40th Anniversary 1988
March 1998 St. Moritz Celebration of the 1928 and 1948 Winter Olympics
2003
Sandy Watson passed away on December 28, 2003 in Ottawa. This was 17 days after the December 11, 2003 death of RCAF Flyer coach Frank Boucher.
2006
On August 30, 2006, George Mara the RCAF Flyer team captain died while undergoing heart surgery. He was 84.
Immediately following the Olympics George Mara (and Wally Halder) had rejoined the Barker's Biscuits hockey team, but one can image that industrial-league hockey was less attractive after the excitement of the Olympics. George accepted the entreaties of Montreal Canadiens general manager Frank Selke and was to play for the Montreal Royals before moving up to the parent Canadiens. He had collected eight points in seven games when an injury ended his season, as well as his playing career.

Stafford Smythe, the son of Conn Smythe, the owner of the Maple Leafs and Maple Leaf Gardens, invited George to join a committee to operate the hockey club and its namesake building in 1957. In 1961, Conn Smythe sold control of the team and eight years later, after a power struggle, George found himself elected president. He held the post for a year before resigning.

During his tenure in Leafs management, George was known to skate with the team at practice. He was also involved in one of the more famous incidents in club history. During the 1964 Stanley Cup finals, defenceman Bobby Baun suffered a broken leg. In the dressing room, George and coach Punch Imlach got into an argument about whether he could return to play. George counselled caution for an athlete whose livelihood depended on his good health, while the coach profanely made the opposite case. As it turned out, Bobby Baun skated on the broken leg, scoring the winning goal in overtime of Game 6. The Leafs completed their comeback with a victory over Detroit two nights later to claim their third consecutive Stanley Cup.
Perhaps George's greatest contribution to the nation's sporting history came not on the ice but in the boardroom. George Mara was one of the founders and inaugural chairman of the Olympic Trust of Canada, launched in 1970 as the fundraising arm of the former Canadian Olympic Association (now Canadian Olympic Committee).
60th Anniversary
60 years after the historic victory in St. Moritz, on Friday, February 8, 2008 an assemblage of some 200 "friends of the Flyers" gathered at the hall of Ottawa's St. Anthony's Soccer Club to honour two of the eight surviving Flyers at a noon luncheon. Ref: 11.6
André LaPerrière of Montreal and Ab Renaud of Ottawa were there to accept replica gold medals from the president of Hockey Canada. (Ted Hibberd had conflicting plans to visit a family member in Florida so could not attend.) Following the presentation, Michael Chambers, president of the Canadian Olympic Committee announced that the team will finally be inducted into the Canadian Olympic Hall of Fame in Calgary on April 12, 2008.
The two Flyers team mates were then presented with replica team jerseys by Dean Black, executive director of the Air Force Association of Canada, on behalf of the association, to wear while dropping the puck for the next evening's NHL hockey game between the Ottawa Senators and the Montreal Canadiens.

Double Click web link CBC's Hockey Day in Canada to watch a brief video of André LaPerrière of Montreal and Ab Renaud of Ottawa dropping the ceremonial puck.
April 12, 2008 Calgary Stampede/Roundup Centre in Calgary
Along with three-time Olympic speed skating medallist Catriona Le May Doan, and six other individual inductees the 1948 RCAF Flyers, gold medallists in hockey, head a list of inductees who will be enshrined in the Canadian Olympic Hall of Fame . The 1948 RCAF Flyers will be inducted in the team category.
The Canadian Olympic Hall of Fame recognizes those who have served the cause of the Olympic Movement with distinction.
The RCAF Flyers (team category, men's hockey) were not expected to fare well at the 1948 Olympic Winter Games in St. Moritz, Switzerland.
Revised rules on amateur status forced the last-minute creation of this squad, comprised of 17 Canadian Air Force and ex-Air Force players.
Yet at only the fifth Olympic Winter Games ever, the Flyers reeled off six straight victories before registering a scoreless tie with heavily-favoured Czechoslovakia.
In their final game against the host Swiss team, a win by two or more goals ensured the team a gold medal.
In a hostile environment, the Flyers rode 22-year-old goaltender Murray Dowey to a 3-0 shutout win.
Dowey, who is one of the six surviving members attending the induction ceremony, finished the tournament with five shutouts in eight games.
The team was inducted into the Canadian Forces Sports Hall of Fame in 1971 and the rink at the Canadian Forces Base in Trenton, Ont. is named the "RCAF Flyers Arena". Dowey will be joined by surviving RCAF Flyer players Roy Forbes, Andy Gilpin, Ted Hibberd, André Laperrière and Ab Renaud at the ceremony.
(Editors Note: Hubert Brooks had passed away February 1984 before the 40th Anniversary and the Canadian Olympic Hall of Fame Ceremony in 2008)
During the Hall of Fame induction ceremony, the COC will also present 1948 Olympic gold medallist figure skater Barbara Ann Scott with the Canadian Olympic Order. The award recognizes individuals who have made the Olympic Movement their life's work and have served it with distinction.
In addition, the Canadian Olympic Committee will also pay tribute to RBC in recognition of their outstanding commitment to the Olympic Movement in Canada. RBC is the COC's longest standing private sector partner, a relationship which began 60 years ago with their support of the RCAF Flyers for the St. Moritz 1948 Olympic Winter Games.
Audio & Video Recollections of R.C.A.F. Flyer 1948 Olympic Hockey Gold Medal Victory
#1 Robin Brown from CBC's INSIDE TRACK did an AUDIO interview with a number of Flyers commemorating the 50 th anniversary of the Flyers. Double Click on the link that follows CBC Inside Track INTERVIEW to hear the mp3 format interview.
#2 YOU TUBE has a video archived where CBC SPORTS' Brian Williams interviews a number of the R.C.A.F. Flyers getting their perspective on events from the 1948 Olympics. (this link also provided in Chapter Section 9.4)
Double Click YOU TUBE R.C.A.F. Flyers 1948 Olympic Hockey Gold Medalists to watch the video.
#3 YOU TUBE also has an archived video circa 2001 briefly summarizing the career of RCAF Flyer goalie Murray Dowey.
Double Click YOU TUBE Murray Dowey (2001 Etobicoke Sports Hall of Fame) to watch the video.
or
Double Click Murray Dowey 2001 Etobicoke Sports Hall of Fame to watch the video and read additional written commentary.

Inductee Murray Dowey led the Royal Canadian Air Force flyers hockey team to the gold medal at the 1948 Winter Olympics,setting a standard for goaltending excellence yet to be matched.
Dowey racked up a phenomenal goals-against average of only 0.62 in the eight gams the RCAF Flyers played on their way to the Gold in St Moritz, Switzerland. It's a record for Olympic hockey goaltending which still stands.
Yet, Dowey wasn't originally slated to be a member of the Olympic team. He was working at his Toronto Transit Commission job on a January morning in 1948 when he received a call from the manager of the RCAF Flyers, inviting him to be their starting goalie in the upcoming Olympics.
Dowey had to scramble to make his way to Europe, leaving the day he received the call to board the Queen Elizabeth for a trip across the ocean with other members of the team. Holding the rank of Aircraftsman 2, Dowey took leave from his TTC jobs to play in the Olympics.
Born in east end Toronto, Dowey played with the Birchcliff Midget teams in the Toronto Hockey League. He was recruited by the Toronto Maple Leafs, who wanted him to play for their junior team, the Toronto Marlboroughs, but he couldn't come to terms with then Marlie owner Harold Ballard.
Dowey said playing in the Olympics on outdoor rinks was a huge adjustment after normally skating indoors at rinks such as Varsity Arena and Maple Leaf Gardens.
"At one of the games both teams had to shovel snow off the ice and the fans were throwing snowballs" he recalled of the Olympic experience.

#4 YOU TUBE has an archived video where CBC's George Stroumboulopoulos interviews RCAF Flyer star goalie Murray Dowey in November of 2013.
Double Click YOU TUBE I WAS THERE: Murray Dowey Talks About Winning Olympic Hockey Gold For Canada in '48 to watch the video.

"What I remember very much about it was the crowd that was there," says Dowey.

"Predominantly Swiss, they were throwing snowballs at us and throwing snowballs at everybody."

"The ice conditions weren't good and their opponents weren't fun to play against, either."

"It really didn't make for a very good hockey game, but we managed to win it," said Dowey

#5 YOU TUBE also has an archived video circa January 2014 where RCAF Flyer goalie Murray Dowey talks about his 1948 Olympic experience and support by RBC Bank of the team.
Double Click YOU TUBE Murray Dowey on winning ice hockey gold at the 1948 Games to watch the video.
#6 YOU TUBE has a video archived showing R.C.A.F. Flyer Andy Gilpin being honored.
Double Click YOU TUBE ANDY GILPIN LINK to watch the video.
The YOU TUBE commentary is as follows: " The oldest surviving member of Canada's 1948 Olympic Gold Medal winning team, the RCAF Flyers, Mr. Andy Gilpin, drops the ceremonial puck prior to the Strathroy Rockets " Petrolia Jets match on February 16, 2008. Goaltenders Blair Bennett (Strathroy) and Michael Zador (Petrolia) partake in the official ceremonies. Mr. Gilpin played for the Canadian Air Force hockey team that represented Canada at the 1948 Olympic Games. Mr. Gilpin and his team have been inducted into the Canadian Olympic Hall of Fame."
Andy was also honored on February 7, 2014 in his now home town of London Ontario by the members of the 427 London Wing of the RCAF Association with an Andy Gilpin Day celebrating his RCAF Flyer association - see the cached article Golden honour: London celebrates 1948 Olympics medalist as Sochi games open .
Hockey Canada quickly followed suite with an interview of Andy for their Olympic Memories series with a video entitled
OLY: Olympic Memories – 1948: Andy Gilpin looks back on his Olympic experience in St. Moritz, SUI.
Sadly, Andy passed away shortly after on March 1, 2014.
#7 ROYAL BANK of CANADA, long time sponsor of Canadian Olympic Teams, and a sponsor of the 1948 R.C.A.F. Flyers, has archival video footage of the Flyer Goal Medal game that they show on their TV Winter Olympic commercials from time–to–time , however unfortunately copies or reference web links could not be obtained.
#8 AGAINST ALL ODDS: THE RCAF FLYERS
For REMEMBRANCE DAY November 11, 2015, Infield Fly Productions and Son House Productions in association with Sportsnet, Canadian Forces Morale & Welfare Services, The Canada Media Fund, Rogers Cable Network Fund and Rogers Telefund, produced a 1 hour documentary (written and directed by P.J. Naworynski -- Executive Producers are Dugald Maudsley, George Stroumboulopoulos and Chris Taylor) telling the dramatic and moving story of this unlikely RCAF Flyer hockey team and their chaotic quest for 1948 Olympic hockey gold.
Narrated by the host of Hockey Night in Canada, George Stroumboulopoulos, it aired on (Canadian) Sportsnet TV channel at the 11th hour on 11 November 2015 in a Remembrance Day tribute to Canadian veterans and the men and women of Canada's armed forces.
CLICK on link for official Infield Fly Productions "trailer" for the AGAINST ALL ODDS: THE RCAF FLYERS TV documentary.
Newspaper & Magazine Articles Recollecting R.C.A.F. Flyer 1948 Olympic Hockey Gold Victory
N

umerous newspaper & magazine articles recollecting the R.C.A.F. Flyer 1948 Olympic Hockey Gold Victory have been written over the years.

A few that come to mind include:
RCAF Flyers, Olympic Champions of 1948 by Pat Guzzo Saturday Section Ottawa Citizen –– 19 years later Ref: 11.8

Horse–steaks for Flyers; by Win Mills, Ottawa Journal, March 1968 Ref: 11.9

A look back at '48 Flyers by Eddie MacCabe, Ottawa Journal; Tuesday August 24, 1976 Ref: 11.10

How the Flyers got it done; by Eddie MacCabe, Ottawa Journal; Wednesday August 25, 1976 Ref: 11.11

'Good God, A Gold!' by Richard Southerland THE MEDICAL POST January 26, 1988 (based on a manuscript by RCAF Flyer Reg Schroeter and additional input from Sandy Watson) Ref: 11.12

Good God, Olympic Gold by Les McLaughlin, Airforce (Magazine of Air Force Association of Canada) Vol 22 No 1 Spring 1998 Ref: 11.13

"Gold Mettle: Winning on a wing and a player: Unknown goaltender Murray Dowey's fast hands helped make the RCAF Flyers Olympic hockey champions in 1948. Not too shaby a result considering the air force fielded Canada's team."; The Globe and Mail, Monday, January 19, 1998 Ref: 11.14

No Shortage of Sports Greats in Military by Pat MacAdam, The Ottawa Citizen, Sunday October 29, 2000 Ref: 11.15

Obituaries Sandy Watson 1918–2003 'Everyone said we'd never win'; The Globe and Mail, Saturday March 20,2004 Ref: 11.16

1948 RCAF Flyers Olympic team honoured by Hockey Canada Jan. 1, 2006 By Laurie McVicar Ref: 11.17

Still flying high 60 years later, by Don Campbell, The Ottawa Citizen; Tuesday 7–February–2008 Ref: 11.18

A Group of High–Flying Hockey Heroes Veterans Affairs Canada Web Site Ref: 11.19

1948 Olympic Hockey Champions: RCAF FLYERS Monday, February 22, 2010 Ref: 11.20

Yukon Hockey Players in the Olympics by Les McLaughlin Ref: 11.21

1948 – Winter Olympics V (St. Moritz, Switzerland) Ref: 11.22

1948 Olympics – St. Moritz, Switzlerand by Joe Pelletier Ref: 11.23

Canadian Olympic Hockey Teams The Canadian Encyclopedia Ref: 11.24

V Olympic Winter Games Canadian Olympic Committee Web Site Ref: 11.25

Historic Hockey Legacy THE BEAVER Canada's History magazine Ref: 11.26

Gold Medal 'Misfits': how the unwanted 1948 Flyers scored Olympic glory by Pat MacAdam Ref: 11.27

CANADA's OLYMPIC HOCKEY TEAMS – The Complete History 1920–1998 Chapter 6 by Andrew Podnieks Ref: 11.28

Experience Olympic Gold at the NAFMC (National Air Force Museum of Canada) - Collection of RCAF Flyer ice hockey insignia and equipment donated by Mrs Phyllis Gravelle, widow of Orval Gravelle

Is There a Winter Olympic Gold Medalist from your hometown? TIME Magazine January 19,1998 Ref: 11.29

Even PEPSI the soda manufactueur, a long time Canadian Olympic sponsor, got into the action one winter Olympics, commemerating the R.C.A.F. Flyer hockey team 1948 win by showcasing the Flyers' jersey on the can. (see image at right)

The Hockey Hall of Fame has in its collection Mr. George Mara's captain's sweater and also Ab Renaud's sweater from the Royal Canadian Air Force Flyers.

From time to time the Canadian War Museum displays Hubert Brooks' number 18 RCAF Flyer hockey jersey. (see images below)
See also cached Feb 14, 2014 article from Government of Canada DND
News Article - Canadian War Museum displays hockey jersey from RCAF's legendary gold medal-winning team )
and OttawaStart article
Canadian War Museum displays hockey jersey from Canada's legendary gold medal winning team at the 1948 Winter Olympics )
and
on Saturday, February 08, 2014 the Canadian Newsblog An Internet News Service
A piece of Canada's proud Olympic hockey history on display

Canadian War Museum Front Lobby Exhibit of RCAF Flyer Olympic Game Jersey (Number 18 belonging to Hubert Brooks)

PHOTO Courtesy: Canadian War Museum

André Laperrière presented with honorary plaque by the Ville de Outremont:
October 2011, the Montreal town of Outremont and The Outremont Historical Society honored Hubert Brooks' fellow Montrealer André Laperrière not only for his participation in the 1948 RCAF Flyer Gold Medal Winning Olympic Hockey Team, but also for his post-Olympic participation in the life of the town.

André played junior hockey with the Verdun Terriers in 1944-1945 and then moved to become captain of the Carabins de l'Université de Montréal hockey team before being called up to the RCAF Flyers in late 1947 (Recommended by Frank J. Selke, then General Manager of the Montreal Canadiens). André distinguished himself as an outstanding defenceman with the Flyers during the Olympics especially with the game against Czechoslovakia.

Upon his return to Canada from the Olympics, André turned down an offer from the New York Rangers and resumed his studies in the fine arts and continued his commitment to sports as a volunteer coach and chair of l'Association sportive d'Outremont for six years.

André was an alderman of the Ville de Outremont for 12 years, between 1971 and 1983. André still lives in Outremont and is an artist of some note.

Double Click web link André Laperrière Hommage à un champion olympique d'Outremont to read more on this well deserved award.
---
To repeat a previous statement:
In the end what matters is that when everybody said it couldn't be done the R.C.A.F. Flyers went ahead and did it.
A lot of us, with some bias perhaps, believe that it was one of the greatest stories in Canadian sport – ever.
---
The Life and Times of Hubert Brooks M.C. C.D.
---
Copyright © 2011, 2012, 2013, 2014, 2015, 2016, 2017, 2018 Ralf Brooks, All Rights Reserved