The Life and Times of Hubert Brooks M.C. C.D.
A Canadian Hero
---
Chapter 3: ESCAPE TO DANGER – EVASION –
Fighting with the POLISH UNDERGROUND ARMY – The A.K.
Section 3.4: Operations of Reformulated "Wilk" Unit & Brooks Promoted to 2nd Lieutenant and Put in Command of a Platoon Group of 40 Men
As mentioned in the previous section, at the end of December 1943, "Wilk" split into three parts with John and I staying with Lt. Krystyn Wieckowski "Zawisza" in the new reformulated "Wilk" with its new base camp at Luban over Kroscienko, later at Szczawa and Mogielnica.

After reformation the unit "Wilk" (or "Wilk 2" or "Wilk 1944" ) was about a third of its original size, initially consisting of 15 men. However the group would again grow in numbers with time.
"Wilk" Operation - Raid on the Polish-German Police Garrison at Ochotnica
Another disaster befell the "new" reformulated "Wilk" unit on 19th February 1944 after we (about 32 partisan fighters) had just raided the Polish-German police station at Ochotnica Dolna.
(This was retribution to the police from this station who had participated in the devestating attack on the partisan Czerwony Groń hideout. )
We disarmed all 25 policemen.
As well, one German (the commander of the police station, the German military police Sergeant Hans Kuntz) and one Polish policeman were killed in the action with five being wounded.
Partisan casualties were one killed (Jan Kulig ps. "Maciek" of Zabrzeż).
However German troops quickly appeared on the scene pinning us down in the garrison. We finally broke out of the house we had been pinned in, but we returned to camp empty-handed and our numbers reduced to 14. We had also made off with a large cache of arms, food and clothing. Winter clothing was always at a premium and desperately needed and we took every opportunity to acquire it–even if it meant stealing from the German army.
Three days later, the Germans executed 40 hostages.
PHOTO: Rare Picture of Polish AK Unit Dressed In Stolen German Uniforms.
The Line of Soldiers in the Foreground Are Dressed in German Uniforms whereas the Line of Soldiers in the Background are Dressed More Conventionally. Out of Necessity, Polish Partisans Often Used German Uniforms and Equipment. Note woolen socks of soldier in German uniform on far left! The Polish Partisans would take out German eagles and axes from uniforms and substitute Polish national symbols (white eagles, white-red stripes). Typically when on patrol a partisan in a German uniform would wear a white and red striped armband on his left arm to send a message to anyone watching. Confiscated Nazi or Slovakia uniforms were better and warmer than civilian clothes. This German Derived Attire Sometimes Worked to Our Benefit to Confuse the Enemy in Ambushes and Other Military Actions.
Picture Remembered to be of 2 Company I Battalion – Exercises in Mogielica Area by Szczawa in Winter 1944
Photo Courtesy of: Hubert Brooks Private Collection

PHOTO: Soldiers of I Battalion 1 PSP AK In Formation Winter 1944
Photo Courtesy of: IPN (Instytut Pamięci Narodowej) Archive
The Institute of National Remembrance Archive in Cracow, Poland – IPN (Instytut Pamięci Narodowej) Oddział w Krakowie.
English website: http://ipn.gov.pl/en/
"Wilk" Operation - Battle In Hills of Przysłup and then Moved Operations to Słopnice
Our party of 14 then moved to the hills at Przysłup. The enraged Germans followed us and we were attacked by a party of 60 German gendarmes in the early morning of 21st February 1944. After 2 hours of fighting we broke through the encircling Germans, and went into hiding in a cave in the hills, having lost five of our A.K. boys:

pchor. Bolesław Durkalec ps "Sławek"
strz. Józef Rogal ps "Strzała"
strz. Jan Rogal ps "Żbik"
strz. Józef Cyrwus ps "Kruk"
strz. Franciszek Klimowski ps "Wicher"

German casualties were six killed and an unknown number wounded.
Since the losses on their side was also very severe, the Germans did not continue the pursuit.
But it was not the end of the tragedy. That day the Gestapo in Zakopane's infamous "Palace" prison exacted a bloody revenge on the captive Polish partisan prisoners.
The "Wilk" unit party of 9 remained in close concealment for a week while German search parties combed the area for us. After things had quieted down we moved to Słopnice via Stary Sącz, where we reformed operations during February and March 1944.
Brooks Promoted to 2nd Lieutenant and Put in Command of a "Wilk" Platoon Group of 40 Men
Brooks' Platoon of 40 AK Partisan Soldiers Line Up For Inspection.
Hubert Brooks is Seen in the Foreground, Front Line 1st on Left Looking Down Front Line of Soldiers.
Seen 1st on left in Back Row is Adolf Bałon "Rys"

Photo Courtesy of: IPN (Instytut Pamięci Narodowej) Archive (Dawid Golik)
The Institute of National Remembrance Archive in Cracow, Poland
IPN (Instytut Pamięci Narodowej) Oddział w Krakowie.
English website: http://ipn.gov.pl/en/
As the months passed, our detachment grew larger and larger.
By March 1944 the unit had been built up to strength of 110 men.
The principal task of unit was guarding the dropzones to receive supplies from Allied aircraft flying out of Italy. The Regiment obtained a number of its weapons as a result of raids on the the Slovakian border guard outposts.
I was promoted to 2nd lieutenant and put in command of a platoon group of 40 men, with John as my second–in–command.
Podpolesk or Podhale – Poland's most southern region, sometimes referred to as the "Polish highlands"- was our platoon's nominal assigned area of operation. Podhale is located in the foothills of the Tatra range of the Carpathian mountains. Nowy Targ is the capital of the region with the mountain resort of Zakopane being the region's most popular attraction.
Left to Right: Hubert Brooks, Doctor Tadeusz Ptak ("Olszyna"), John Duncan in Limanowa region

Photo Courtesy of: Dr. Jerzy Krzewicki son of Mjr. Julian Krzewicki ("Filip") the Commander of the 2nd Battalion 1 psp AK and Head of Limanowa Region

Left to Right: Hubert Brooks (center with hands on hips), Doctor Tadeusz Ptak ("Olszyna") (half sitting third from right), Jan Stachura "Adam" (far right with hands in pocket) in Limanowa Region

Photo Courtesy of: Dr. Jerzy Krzewicki son of Mjr. Julian Krzewicki ("Filip") the Commander of the 2nd Battalion 1 psp AK and Head of Limanowa Region
During this time, my sphere of operation moved generally to the Limanowa district of Southwestern Poland. Here we worked closely with the unit of por. (Lieutenant) Aleksander Marczyński "Strzemię" who was in charge of the company unit Topór in the summer of 1944. (In September 1944 his company unit, along with Wilk and Wilk II would combine to build Battalion I "Nowy Sącz". Then in October 1944 Marczyński moved to Battalion IV "Nowy Targ" -- as seen from my own movements, there was a lot of moving around within the partisan ranks!)
| | |
| --- | --- |
| | |
| Map Source: Wikepedia : Limanowa | Picture Source: Wikepedia : Limanowa |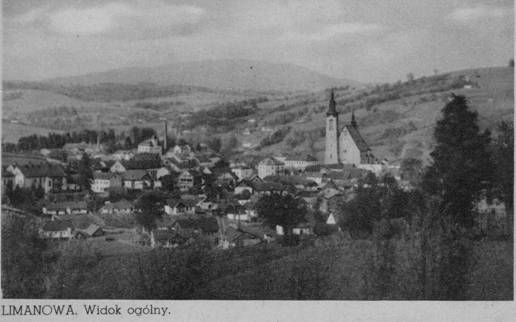 Postcard: Limanowa circa 1940s Momento saved by Hubert Brooks
I was to work quite closely with and become good friends with Capt. Julian Krzewicki ("Filip") the Commander of the 2nd Battalion 1 psp AK and Head of Limanowa Region (see for example Armament Drop Exercises Near Village of Kostrza in Section 3.6 as an example as to where we worked closely).
Julian had been appointed as the Komendant Obwodu of Limanowa (District Commander of Limanowa) on September 1, 1943 replacing Stanisław Leszko "Olcha".
I also got to know Julian's wife Barbara who spent essentially the entire war at Julian's side, for the first part of the war primarily at her families house in Gorlice (which was also the local underground headquarters in the Limanowa region) and then for the later part of war in the Beskid Wyspowy mountains with the partisans.
At the house in Gorlice they prepared propaganda, written orders, and stored weapons.
Barbara had been sworn into the AK in Gorlice and took the pseudonym name "Wieslawa".
Barbara participated in the issue of the weekly underground magazine that was copied and sent out all over the country. The chief-editor was Alojzy Biernat "Ryszard". The materials were derived from the radio (Barbara participated in this principally by hearing and writing down BBC news), also from a central partisan underground press, as well as the local press.
The wonderful thing was that Julian and Barabra were almost always together during the partisan time of the war.
Barabra Stormke and Julian Krzewicki in Gorlice on their Wedding Day of August 5, 1939

Barabra ("Wieslawa") and Julian Krzewicki ("Filip") in Limanowa

Photo Courtesy of: Dr. Jerzy Krzewicki son of Mjr. Julian Krzewicki ("Filip")
the Commander of the 2nd Battalion 1 psp AK and Head of Limanowa Region
I was also to be great friends with the 2nd Battalion's Chaplain Hubert Kostrzański "Mirt" and Intelligence Officer Jan Cieślak "Maciej".
Ordered to Liquidate Gestapo Informer Sikora
It was early spring John and I were detailed to carry out our Platoon's first liquidation. There was a Gestapo informer, a Pole named Sikora, the A.K. wanted to execute. Sikora had acquired considerable wealth in his dealings with the Germans and was a constant source of danger to the A.K..

He ran the lumber mill in the village of Jazowsko (a small village in the administrative district of Gmina Łącko, within Nowy Sącz County, in southern Poland. Jazowsko lies approximately 8 kilometres (5 mi) south-east of Łącko).

We had orders to kill Sikora and confiscate the big belts from the mill, as we were short of leather for our boot soles.
Our information about Sikora was detailed and complete. He lived in a strongly–built house with a large German shepherd as a watchdog and had a Tommy gun, two rifles, a shotgun and several grenades in his bedroom. A frontal attack was out of the question.
I took John and two Poles with me and we proceeded down the mountains to the outskirts of the village before dawn. From 2 AM until 9AM we waited on the shores of the Dunajec River.
At 9:30AM, in broad daylight, I and one of the Poles ("Iglica") – whose Polish family name was later revealed to be Zygmunt Mańkowski – dressed in civvies waited on the main road of Nowesacz that led from the village to the mill.
As we heard Sikora approach we sauntered towards him, came face to face and passed him. Then we whirled round and shot him.
John and the other Pole were in the village knocking out phone communications. After disarming Sikora we left him where he lay and quickly headed for his house. I ran past his startled wife, let the police dog have a burst and headed straight for the bedroom. I found and grabbed the French Tommy gun and excellent battery radio while my companion seized the other weapons. The rifles were all loaded with "dum dum" bullets.
Suddenly a voice said:
"What's my husband going to say when he comes back and finds what you've done?" shrieked the woman.
"I'm sorry, Madam," I said,
"Your husband won't be coming back!"
Then we scrammed. As we joined up with the others in the village we noticed a post office truck parked in the street. The boys shot up its tires before we left. The Germans were hot on our trial 10 minutes later, but failed to catch us. The Germans wanted to kill a number of Poles in reprisal, but the wife of the informer pleaded for them not to, as she was afraid that we would return and kill both her and her child. That was the fear that the Polish partisans seeded in traitors.
20–Oct–1957 Letter Received by Weekend Magazine after Brooks' Article "Escape To Danger" Was Published:
With respect to the shooting of the Gestapo informer "a Pole named Sikora".
"I knew the man Sikora very well. He was a chief-forester in the estate of my friends, the landowners of the village of Jazowsko which was situated near the village of Łącko mentioned in the article.
Invited often by my friends, I spent many of my holidays in this charming region upon the Dunajec River on hunting and fishing trips. Sikora was always our guide in these woods. Both Sikora and his wife were not Poles, but German, descending from German colonist families. Sikora, like many German colonists in the region spoke fluent Polish. The landowners of Jazowsko were highly cultured people and were very good to Sikora – as they were to all of their employees (in Jazowsko there was a furniture factory, some lumber mills, etc). So Sikora had nothing to complain about.
Nevertheless, when the Germans occupied Poland, Sikora became a "VOLKSDEUTSCHE" and at the same time collaborator of the GESTAPO. Because of his denunciations almost whole families of my friends were killed or deported to Concentration Camps by the Nazis.
So Sikora deserved his fate and please express my thanks to Mr. Brooks for avenging my friends."
Dr Pierre Radwanski
Professor of Anthropology
Université de Montréal
Editor's NOTE:
In German-occupied Poland the population of Poland was divided into a social structure as follows;
at the top of the social structure were the Reichsdeutsche, the pre-war citizens of Germany, the Reich,
then, there were the so-called Volksdeutsche – ethnic Germans,
followed by the Slavic minorities in Poland, the Belorussians and the Ukrainians, who were were the Untermenschen, (the "subhumans") largely destined to be labourers for the Reich,
lower down were the Poles who were also deemed as Untermenschen, (the "subhumans") The exceptions were a small number who were considered suitable for the General gouvernment,
on the very bottom of the German-constructed social ladder were the groups considered by the Nazis to be non-human and destined for immediate extermination: the Jews and the Gypsies.
We then returned to Przysłup where the company was now stationed. A week later we discovered to our chagrin that the postal truck was transferring a huge amount of government money. The driver had stolen it himself and blamed the theft on us!
PHOTO: Hubert Brooks Summer 1944 somewhere in Gorce or Beskidy Mountains.
In this photo, Brooks is seen with a German hand grenade and a German machine gun pistol.

Photo Courtesy of: Michał Maciaszek , GRH Commander, The Polish Historical Society,
34-400 Nowy Targ, ul. Św. St. Doroty 55 Dorothy 55, Poland
PHOTO: Hubert Brooks at Polish Partisan Unit Wilk Exercise 1944.
In this photo, Hubert Brooks on extreme left in photo in short sleeve white shirt
Shaking hands is por. Jan Lipczewski "Wiezyca", "Andrzej", adjutant Inspektora AK Nowy Sacz
Behind Jan Lipczewski in dark military uniform is Lt. Col. Stanislawa Mireckiego "Butrym", "Wit", "Pociej"

Photo Courtesy of: Józef Bieniek collection in Museum in Nowy Sącz
via IPN (Instytut Pamięci Narodowej) Archive
The Institute of National Remembrance Archive in Cracow, Poland
IPN (Instytut Pamięci Narodowej) Oddział w Krakowie.
English website: http://ipn.gov.pl/en/

---
The Life and Times of Hubert Brooks M.C. C.D.
---
Copyright © 2011, 2012, 2013, 2014, 2015, 2016, 2017, 2018, 2019 Ralf Brooks, All Rights Reserved