The Life and Times of Hubert Brooks M.C. C.D.
A Canadian Hero
---
APPENDIX A – EXTENDED BROOKS FAMILY GENEALOGY
A.10.0 BLUESKY, Alberta
A10.9 Life in Bluesky For The Brooks Family
There are several excellent REFERENCE books which document early life in the Bluesky region. Some of these include:
WHERE THE COLD SPRING FLOWS - Whitelaw and Surrounding Districts; Published by Whitelaw Historical Society, 1993 ISBN 0-88925-937-2

HEART OF THE PEACE- FAIRVIEW AND DISTRICT; Volumes I through 3; Published by Town of Fairview (Alberta); 2005, ISBN 1-55383-096-2

The web online book, WATERHOLE and the Land North of the Peace; published by The Waterhole Old Timers Association, Edited by Hec MacLean, 1970.
The book can also be found at the online LINK 2 for WATERHOLE and the Land North of the Peace

And the general online web list of references for Early Alberta Rural History and Homesteads.
DEVELOPMENT OF THE BROOKS FAMILY HOMESTEADS
As detailed in the previous SECTION, Hubert Brooks chose a HOMESTEAD (SE ¼ of Section 25 in Township 80 Range 2 West of 6th Meridian) some 9 miles south of Old Bluesky adjacent to the bank of the (Old) Burnt River. This district was called Brightside and sometimes Lothrup but later was named East Burnt for the school. Sons Alfred and Aimé were located some 3 miles further south at the juncture of the Peace and Burnt Rivers. Alfred's property was the first to be built, and then a few years later the brothers got together to build their father's place and then, once he returned from WW I, Aimé's homestead.
One of the first activities required in developing a homestead property was to define the property boundary by setting markers to every quarter section corner with four holes with a metal rod in the middle to tell the number of the quarter section.
Smaller tress were chopped with an axe then piled and burned. Larger trees were dug around with a shovel and then the roots chopped off with an axe --- then using a long ladder a cable was attached as high up in the tree as possible and then the tree was pulled over by a team of horses. The large trees were piled and saved for wood. The land was then broken with horses pulling a single bottom breaking plough. The roots were picked and piled by hand and then burned. The bigger stumps were blasted out with stumping powder (dynamite) --when that was available, otherwise horses were used to pull out the heavier stumps. The final clearing of the land was done the hard way with axe, grub-hoe and breaking plow. The soil was beautiful and the Brooks family turned out to be lucky – there were only a few rocks on their respective properties.
A tiny temporary shelter was erected on the property consisting of a roof of sapling poles which was then laid on and covered first with hay which in turn was covered by a layer of sod. The cracks between the logs, which composed the walls were chinked with clay. There was a hard pack dirt floor. Beds were covered with netting to protect against the mosquitoes that plagued the summer months. Chipmunks ran in and out of the shelter as they pleased.
An early activity was to have a plot of ground plowed for a garden. A variety of garden seeds were put in the ground, especially potatoes which were an important staple of the homesteaders diet. The long hours of sunlight and the heat of the early summer resulted in phenomenal growth.
Once the temporary shelter was in place, work began on the main log cabin residence. Logs had to be cut and sized, then several neighbors gathered for a "work bee" and erected a wall for the cabin in one day. Immediately after the log cabin was built, a shed / barn was erected to house the horses, oxen and livestock for the coming winter months. In the summer the sun shone till 10 pm at night with clear blue skies - so the work days were long.
Initially water was hauled from the Burnt River. Later wells were dug were possible. Alfred Brooks' homestead, overlooked the rolling hills of the mighty Peace River and boasted 3 wells – which was a great bonus as father Hubert's property had troubles getting water from a well and a dougout had to be dug into the impervious clay subsoil and allowed to fill from spring run off, and also was filled with melted snow in the winter and allowed to freeze. Thus as it melted during the summer drinking water was provided.
For father Hubert Brooks (who had sold his store and residence in Old Bluesky early 1919) the final homestead building configuration by June of 1921 was as follows:
| | |
| --- | --- |
| ITEM | SIZE (ft. by ft.) |
| Log Cabin HOUSE | 24 by 34 |
| Kitchen (added to house) | 16 by 20 |
| (Log) Barn | 24 by 32 |
| (Frame) Grainery | 16 by 24 |
| (Log) Hog Barn | 16 by 22 |
| (Log) Well House | 10 by 10 |
Ruth Beveridge remembering her time as a child commented: "The Brooks' were to the south. How we kids loved to go to their place. Mrs. (Marie) Brooks ("Mama Candy") was just a fantastic cook and Mr. (Hubert) Brooks always saw to it that all of the little people got a good share of goodies."
In fact Marie Brooks was such a good cook, that years later, the Brooks woman kicked themselves that Marie's " White House Cookbook" with all of her recipes had somehow been lost with all of the moves.
By July 1917, son Alfred had completed building his HOMESTEAD residence, a 18 ft by 20 ft Log Cabin as well as a Stable and a Cattle Shed on property SW ¼ of Section 17 in Township 80 Range 1 West of 6th Meridian
Although son Aime filed his application for a HOMESTEAD property at roughly the same time as father Hubert and brother Alfred, his homestead build was delayed somewhat as he served in the military during WW I. During his absence he leased out his land for cattle grazing. By November 1921, he had built a 18 ft by 20 ft Log Cabin and a Stable and dug a well on his NE ¼ of Section 8 in Township 80 Range 1 West of 6th Meridian property.
Challenges of A Pioneer Life - Alfred and Aimé on the Homestead
Alfred assisted by brother Aimé had completed the basic construction of his log cabin by the summer of 1917. Further improvements were to be made over the coming years.
Although there were many challenges and hardships leading up to the construction of the basic structure, there were fond memories of the nightly smell of campfire, of eating beans and bannock, while the last rays of sunset set down over the Peace River. Often times the brothers went to sleep listening to the coyote wail into the night.
The first winter of 1917-1918 was somewhat desolate with the cold north winds that howled around the log cabin buffeted only by a warm cheery fire. Typically in these parts, snow fell early October and stayed until late March.
In winter, the brothers were dependant on snow melted in a trough underneath which a fire was kept going to provide water for their horses and themselves (and later cattle). Specifically to accomplish this, snow had to be melted in a large wooden trough with a sheet metal bottom (water proofed in a similar way to a boat). The trough was suspended on 2 large logs or rocks so a fire could be built underneath to melt the snow which had to be shoveled in in plentiful quantities.
(This turned out not to be satisfactory as the water contained no minerals (especially iodine) and calves were often born with goiter which often proved fatal. Eventually iodine and minerals were added to the water.)
Rest of the year, rain water was caught in barrels and used for washing and the like.
Surrounding poplar trees were cut down to feed the fire in the winter.
There was an abundance of wild game such as prairie chickens (sharp tailed grouse). Rabbit availability was hit and miss. The rabbit cycle of 7 years reached its peak in 1915 when there were literally millions of them, and peaked again in 1922 and 1929. After that the rabbit population was almost entirely and quickly wiped out by disease.
The brothers would shoot a moose early in the winter and have their horse haul the carcus home.
Alfred and Aimé would spend a week at a time on the trap line which was 18 miles long and three miles wide. By winter's end they had snagged almost 500 pelts of fox, coyote, lynx, weasel, muskrat and wolf and a large number of squirrels whose pelts they sold to the fur buyer when he came around in the spring.
The twenty four miles round trip to town and back took the better part of a day so their trips were few and far between and typically they stayed overnight with their parents and brothers. They bought their staples in large quantities.
Early summer of 1918, Aimé left to enlist in the army to fight in WW I.
July of 1918 there was a killer frost -- clothes hanging on the line were frozen stiff. The frost destroyed most of the wild fruit which the homesteaders depended upon as an addition to the usual winter diet.
The weather for the winter 1918-1919 was at times quite severe with much snow and temperatures dropping as low as minus 60.
Further the winter 1918-1919 was the time when the so called Spanish Flu swept the western provinces and the Old Bluesky region did not go untouched. The flu was bad in Bluesky. A lot of families were affected and many people died due to doctors not being close to the area and people just did not have money to pay for medicine. The Bluesky school house had to be turned into a hospital.
During the flu outbreak many remedies were used. Granny Whitford was a good practical nurse and midwife. Granny's mustard plasters will never be forgotten by the homesteaders and still are used occasionally in the region.
Granny Whitford
As an aside, Granny Whitford was a very important person to the Brooks children - especially the children of Joe, Aimé and Otto.
Mary Herbert was born in Red Willow Creek, Alberta in 1873. Her mother was a Cree Indian and her father a native of France. She spent her early years in the Stettler and Pincher Creek areas. On July 15, 1888; at the age of fifteen, she marrier James Whitford at Pincher Creek. The couple would have 4 children; sons Dan, Billy and Gilbert and daughter Agnes. The couple lived in Pincher Creek until 1911 when they moved to Waterhole.
A former Medicine Woman amongst the Indians, Mrs Whitford also served the community as a doctor, nurse and midwife in the Bluesky / Waterhole/ Fairview area before the arrival of a 'certified' medical practitioner. She often travelled many miles on horseback to attend to someone who was sick or injured and she once stated with pride;
" I never lost a case."
Her herbs and medicines saved many lives in that north country and she also excelled as a midwife, delivering countless babies over the years - many on cold blizazardy nights. Marie Brooks often sought out lotions from Granny Whitford for her vericose vein problem. When a doctor did arrive to the area, she often assisted him with the case.
Boys from the North Peace District often would make a trip to Granny Whitford's where she would trace their feet on a piece of brown wrapping paper and then make them deer skin moccasins for the coming winter. Granny Whitford was well known for her expertise in tanning hides.
Granny Whitford became Herb Lothrop's housekeeper when he was living on his ranch on the Montagneuse River.
Granny Whitford raised Theodore (Chick) Knott whom she had found as a baby in an Indian teepee at the time of the 1917 flu epidemic. Chick stayed with Granny until 1938 when he moved to Hay Lakes to live with his Aunt Harris.
In 1924 when Herb moved down to the Peace Breaks to the SW 17-80-1-W6, which was homesteaded to Fred Brooks (after Fred and Laura decided to move back east to Ottawa), Granny Whitford and grand-daughter Mary (and Chick Knott) followed and moved in with Herb.
Granny Whitford still attended to her local neighbors since the closest medical doctors, dentists and hospitals were at Berwyn and Fairview. There was a district nurse, Mrs Aimé Brooks at Bluesky.
Herb had a stroke and was bed-ridden for about 4 years-- Granny Whitford looked after him until he passed away in the mid forties.
Granny Whitford lived to the age of 93.
Granny Whitford's hospitality, kindness and cheerful disposition and her quiet and concerned mannerism won her the admiration and friendship of the community she so selflessly served.
To this day, Joe Brooks' son Gerald Brooks has fond rembrances of Granny Whitford the midwife who "brought him into the world". (He also believes at least one of his sisters was delived by Granny Whitford as well.)
Gerald, well known for his singing and original song compositions amongst family and friends, composed a song in fond remembrance of Mrs. Mary Whitford. A video has been uploaded to YOU TUBE of Gerald Brooks singing this song.
Double Click the link here YOU TUBE "Mrs. Whitford" by Gerald Brooks to watch the video.

The COMMENTARY associated with Gerry's song is as follows: An original song, composed and sung by Gerald Brooks on Saturday July 23, 2011 at a family and friends reunion near Girouxville, Alberta. In this song Gerald reflexes back with great admiration on Mrs. Mary Whitford a midwife who "brought him into the world". (He also believes at least one of his sisters as well). Mary was a former "medicine woman" among the Indians in the Peace River district of Alberta- the daughter of Cree Indian mother and a father from France. In the early 1900s, Mary served as a doctor, nurse and midwife in the Bluesky / Waterhole/ Fairview area for a number of years before the arrival of a formally trained medical doctor.
(NOTE -- you can expand to FULL SCREEN by clicking the 4 arrow FULL SCREEN icon in the lower right corner -- and then return to NORMAL MODE by hitting the ESC key.
NOTE ALSO: Not to complicate things...BUT... in FULL SCREEN mode OR if the sound breaks up -- its advantages to hit the PAUSE key and let the sound stream in -- you can watch progress with the bottom moving line load graphic -- after sound loaded then hit PLAY and it should be continuous song.)
Theodore ("Chick") Knott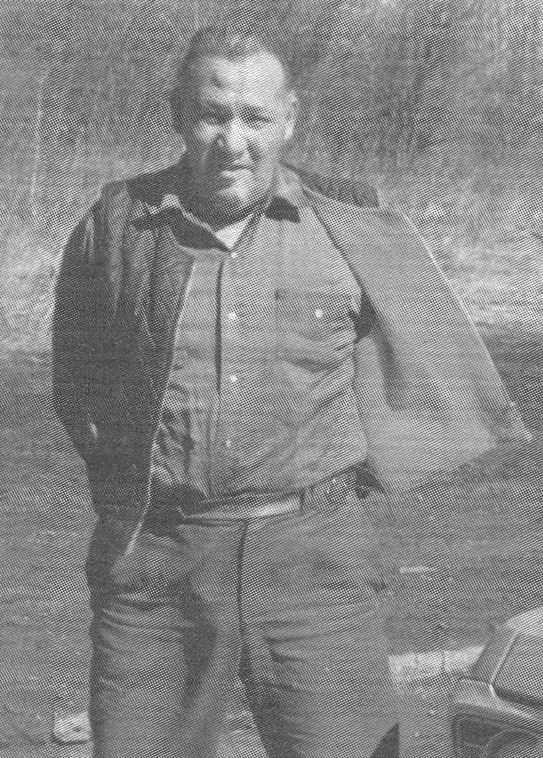 Theodore ("Chick") Knott was one of the "characters" who became a noted presence in the lives of the Brooks families.
Theodore ("Chick") Knott was born in Green Island in 1913. In 1917 he was living near Island Lake (now known as George Lake) when his parents became ill with the ("Spanish") flu. He was found in his tent by Danny Whitford shortly after his parents died. All the other members of the camp had died as a result of the flu. It was in the middle of winter so the bodies were wrapped in blankets and placed in a cache in the trees until spring. Danny Whitford took Chick home with him to Granny Whitford who was then living on her farm at the top of Lothrop Hill.
In 1924 the Lothrup ranch was sold and Herb Lothrup, Granny Whitford and her family -- which now included Chick -- moved to land which had belonged to Fred Brooks in the East Burnt area. Chick attended east Burnt School for a short time. Chick was a willing worker and often times during the winter he made the journey from the farm to Otto Brooks' store and picked up groceries and mail for several neighbors thus saving them the trip to Bluesky.
Chick was an innocent, gullible, happy-go-lucky boy who was frequently the victim of practical jokes played on him by the Brooks brothers. Joe Brooks in particular was well known for being a prankster, and he developed elaborate stories of ghosts and horse thieves all of which ended up coming after Chick -- often causing Chick to high tail it in fright at a breakneck run - from the Brooks' Bluesky store to his home with Granny Whitford!
Chick became well known for his ability with cattle and horses. In the late 1920s, Chick worked for various threshing crews, most notably Charlie Hamiltons. On occasion, Chick and Billy Whitford were requested to assist the RCMP in case things got rough and as trackers.
In 1938 Chick moved from Granny Whitfors's to Hay Lakes to live with his Aunt Harris. Chick married Julie Calliou in June 1940 and lived east of Griffin Creek for two years. Chick and Julia raised a family of 12, eight boys and four girls. Chick joined the army in 1942. In 1987 Julia passed away and Chick moved to the Duncan Reserve.
December of 1919, Alfred wed Laura Farant at St. Boniface Catholic Church in nearby Friedenstal and then introduced her to his homestead.
Alfred and Laura Brooks on Their Homestead Next To The Peace River
Coming from the comparative urban sophistication of Ottawa, nothing could have prepared Laura for the pioneer life of a homestead plot some 12 miles south of the hamlet of Old Bluesky.
Winter of 1919 -1920 began about mid October with the snow laying on the ground till late April. The weather was quite severe at times but was often tempered by mild periods which were as a result of the Chinook winds.
Arriving as she did in the winter month of December of 1919 did not help ease her into the environment. There were many blizzards and cold temperatures of fifty and sixty below or colder. There was no plumbing or electricity.
They needed a lot of wood for winter as this was THE ONLY meaning of heat – and one had to keep the fire going. Fred did have a coal oil lamp, however candles were used extensively at night.
Up until this point in his life Fred had only to worry about providing the necessities for himself. The log cabin was spartan and he had not set aside canned vegetables and berries for that first winter.
Fred kept a cow and some chickens on his homestead. He'd figured out the technique of putting an old lantern in the coop to give chickens a little light and heat to trick them into getting up a little early and laying more eggs – which they did.
Fred was a good provider of wild meat; moose, fox, muskrat and so forth. But when he went out hunting he was gone for days at a time. In the non-winter months there was generally always an abundance of wild game; chickens, partridges and rabbits.
The early days were hard on Laura. Like so many other woman who had come from cities or places that had the niceties of life, loneliness and the worst, homesickness, were natural occurences. No words can describe the inner emotions these created. The dedication, the stableness and the courage it took to carry on were, in retrospect, amazing.
On occasion they would travel to Bluesky to visit Fred's parents and get supplies in a sleigh pulled by a team of horses. They used a foot warmer in the sleigh, which was a metal box in which you could put heated stones. If it was really cold they both covered up with buffalo robes. Additionaly, at times, rocks heated in the oven were wrapped in blankets and put on their laps.
The first winter was hard - especially with Fred away hunting more and more as the season ended. But Laura endured the hardship of doing without and making do with almost nothing accompanied by the loneliness for her family and friends as well as waiting for the mail which took weeks to receive. The Eatons and Simpsons catalogs were viewed many many times for clothes that might have been bought. Laura spent a lot of time paging through the McFayden seed catalog to plan a garden for the Fall.
Around this time Fred and Laura were overjoyed with the knowledge that Laura was pregnant with child (twins as it would turn out).
The Spring of 1920 arrived somewhat earlier than usual – early April welcomed by the call of the geese. The farmers, Alfred included, then "broadcasted" seed oats from the back of a wagon. The seed was then covered by harrowing. Charles Hamilton served as a weed inspector and not a mustard seed or Russian thistle dared to grow in the East Burnt grain fields! Laura grew a large garden and picked wild berries which were plentiful. There was no summer frost in 1920 so the crops and gardens were good and would produce an abundance of wild fruit that year.
The roads in the Spring and early Summer were poor with lots of mud. (The roads had been built by local farmers with slips and fresnos pulled by horses. ) Travel was limited to a high wheeled wagon pulled by a team of horses.
That Spring the hills up and down to the Peace River were covered with blue and lavender colored crocus. Later in the year the orange tiger lilies bloomed in abundance and Laura picked armfuls of them to bring home and put around the house. In time Laura had germaniums growing on the window sills and cucumber vines climbed the wall outside the kitchen window.
That summer Laura almost forgot about the harsh winter walking the country, falling more and more under the spell of the magnificent land of parkland and prairie, an ocean of grass, meadows decked with flowers and bluffs of polar trees, a vast land of startling contrasts. It was not too hard to find prairie chicken nests, each with multiple eggs, which were quickly expropriated.
The pails of berries Laura and Alfred picked along the Burnt River that first summer were beautiful; red, juicy raspberries, sweet wild strawberries, chokecherries, high bush cranberries, black currants and the huge blue-black saskatoons. Saskatoons and rhubarb were canned and any leftover berries was made into jam. Beets, turnips, cabbages, carrots, peas, rhubarb, and corn were planted. Several apple trees were also planted.
Laura did a lot of baking and canning of vegetables and berries as there were no refrigerators or freezers at that time. As we had no ice, the milk, the cream the butter were kept cool by hanging them down their well.
Laura quickly found out that if you put a cheese cloth on the windows, it kept the bugs out, and it allowed restful sleeping at night!
Mosquitoes were torture to both man and beast -- as there was no insecticides. Homesteaders depended on smoke to control them until cool night temperatures quieted them down. Often a metal bucket containing a smoldering fire to which green vegetation was added from time to time to create a considerable amount of smoke was kept outside of the door to prevent the pests from entering. A larger smudge fire surrounded by a fence was kept going for the benefit of the livestock who soon learnt where to go to get away from the troublesome flies and mosquitoes.
Tragedy struck Alfred and Laura Brooks on 29–August 1920 with twins Hubert and Maynard Brooks dying at child birth. Tragically Laura was alone in the log cabin at the time of the twins birth, with Alfred away. Laura didn't know what to do when there were complications during the birth. The twins were buried the next day at the closest Catholic cemetery, the Friedenstal Cemetery.
In the fall the grain fields were usually "attacked" by hundreds of crane. Fred, as did his neighbors, would shot a bird or two for ourselves perhaps a neighbour. The crane is a big bird, as large as a turkey and when you cooked a crane you invited the neighbors for dinner.
Winter of 1920/21 was uneventful but the snow remained till mid April.
In the winter of 1920/21 Fred set up an ice house – in a cellar area directly below the log cabin -- with lots of blocks of ice covered with sawdust where they could keep their meat and milk cold.
These were hard times. Everyone was in the same situation with not too much money. Clothes were patched, flour and sugar sacks were often used to make curtains, clothing was cheap, men's work pants cost a dollar, shirts seventy five cents and work socks three pair for a dollar.
Also in 1921, the railway was extended 22 miles from Peace River and the town of Berwyn sprang up at the end until later in time a flour mill was set up in Red Star.
Summer of 1921 a school building made up of logs was built (East Burnt School) and school opened in September with Dick Mansfield, an RAF veteran, as teacher. There were 13 pupils covering grades one through eight. Students walked to school in summer and in winter along the road (as it existed) which was called the "pole line". Some neighbor usually brought children in with team of horses and sleigh, as at times hungry coyotes would follow the children down the road. Dick Mansfield lasted for a very short time as teacher followed by Miss McMurray, Mr Olson, and Miss Bleaken. In the early years most of the young teachers endured this north country from September till Christmas and then, more often then not, a "new one" took over until the end of June! The teachers of the school usually boarded with one of the families in the community and it was a custom to have the teacher over for supper occasionally when the best tablecloths and cutlery were laid out. The East Burnt School section of land always seemed in summer to have more flowers than anywhere else - probably because in those early years no one farmed it.
Despite the isolation from centres such as Peace River with more amenities -- the homesteaders still found occasion to joke and laugh and there was still considerable social life in spite of the area being thinly populated and roads non-existent. In the beginning roads were only wagon ruts that wandered from neighbor to neighbor -- as more land was cleared the roads tended to follow the road allowances where possible. Gradually people were allowed to work off some of their taxes by doing road work.
During the summer months there would be an annual picnic and dance as well as numerous baseball games between the various communities. Kids lived a happy life. Summer days brought ball games, horseshoes and picnics by the river plus sports days. If they were good, kids were rewarded with a special treat – a cold fizzling glass of Rawleighs fruit salts. For the children somehow, someway they were always busy and everything was so new and different, and often exciting. They hadn't caught on that everyone was roughing it and hadn't a dime to spare.
In winter there were house parties, dances and card parties. Whist and Five Hundred were popular card games. People would travel for miles with team and sleigh to attend those social gatherings, frequently taking the whole family as babysitting was a service unheard of at that time. Church services of various denominations were held in the homes or if available the school house. The school house became the social center of the community.
People were hospitable out of all proportion to their means and visitors always received a warm welcome. The pioneers depended on one another – no one would not befriend his fellow man. Although they all worked hard individually, by exchanging work with other neighbors, they managed to quickly and efficiently clear land, plow it and plant a garden with associated crops.
They were indeed true pioneers who faced impossible odds as they carved their homesteads out of the wilderness.
There was always much visiting between neighbors.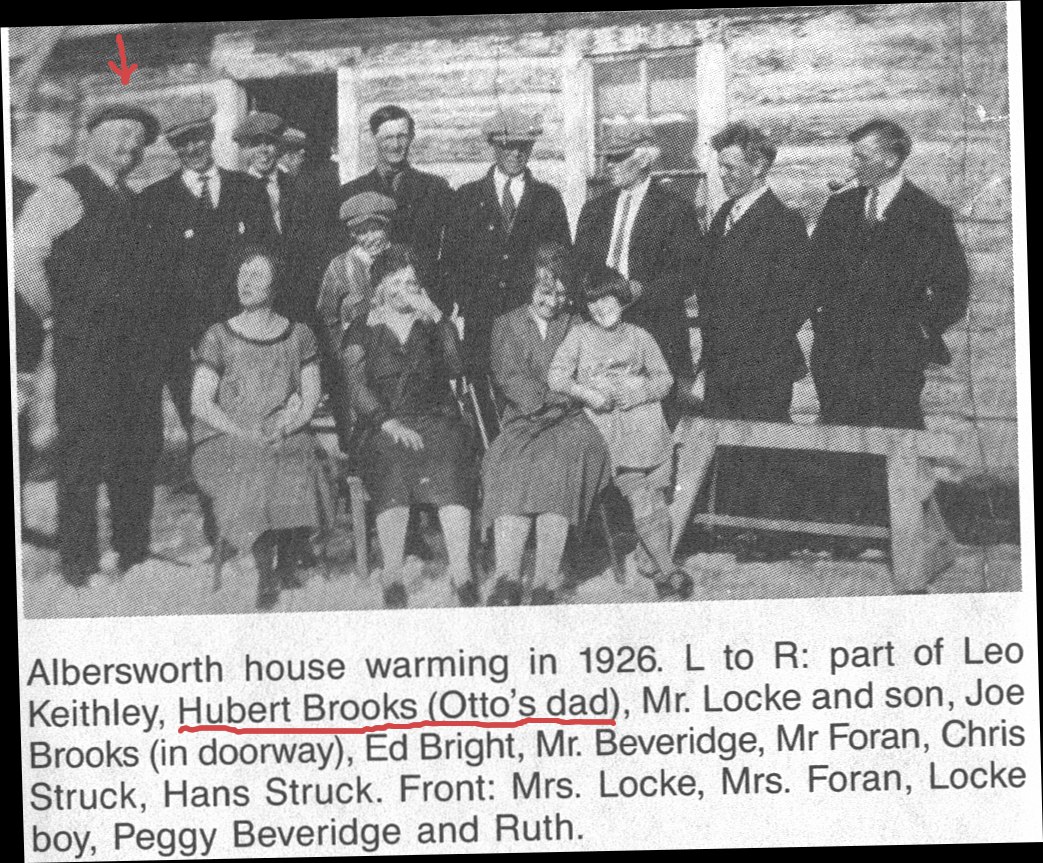 Ihe Brooks' neighbor Ed Bright, a bachelor pioneer of the area, never locked his cabin door and all visitors were welcome to rest and have a meal at his place whether or not he was home or not. Some of the other neighbors of the Brooks' included; the Albersworth family, Ted Anderson family (from Sweden), Beveridges, Wynesses, Les and Cetties Bray, Herb Lothrop and Granny Whitford, the Forans, Charles and Eva Hamilton, Fred and Anna Grover, and Paul Salmond who did dairy farming.
On 29–December 1921 at half past eight on a Thursday morning, first son Hubert was born. Hubert was baptized in the St. Boniface Church in nearby Friedenstal by parish priest Rev. W. Ebert on 18 March 1922. Grandparents Hubert and 'Mary' (Marie) were Godfather and Godmother respectively.
From time to time Fred would head out on his boat the "S.S. MInto" to pan for gold. He'd prospect east of Grand Cache down to Grand Prairie. Unfortunately he never found anything of note.
In the Waterhole Oldtimers book, Paul Salmond had the following interesting account where Fred Brooks' is mentioned:
Two highlights of the year was the Xmas concert, with each child taking part, and; at the end of June, the school picnic. Many a times the Brooks' and their neighbors danced by the lights of gas lamps to music by any who could play an instrument, Silver Barley with his fiddle, the Brooks brothers (primarily Joe with Otto helping out) on their drums, Pat Kearney and his mouth organ - none of these "musicians" were professional, but each willingly gave their best!
The Brooks family seemed to have a musical steak in their DNA. Not only were Joe and Otto so inclined with their drums and songs, but brother Aimé and his children were gifted as well. When Aimé's daughter Margaret was 10 years old she started an annual tradition of singing at community fairs such as held at Whitelaw. Her favorite song was "Early One Morning". Margaret's brother Wendall was quite musical as well – when he went overseas he brought his guitar with him to entertain the boys.
In 1923 civilization further creeped into the are with Oscar Johnson running a taxi (a model T Ford) between Berwyn, Bluesky and Waterhole.
Also in 1923, Fred "made the local newspaper" as a result of a fire he'd set to burn some brush that got away from him. Laura didn't let him forget that incident for some time.
May 15, 1923 Edition of ** The Northern Review ** Newspaper
Column "News and Notes from Bluesky"
On May 10,1923 a Fire Swept Over Fred Brooks' Land
ARTICLE Courtesy: Erika Thompson, Library Clerk, Fairview Public Library, Fairview AB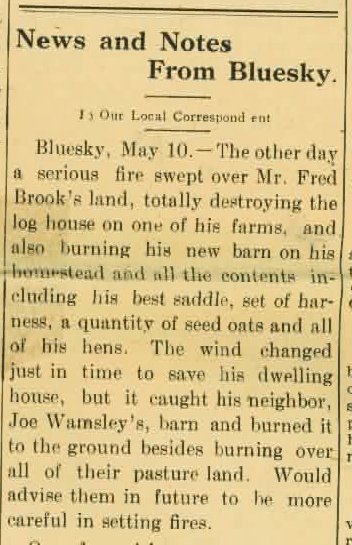 Daughter Doris was born in Berwyn Alberta on 24–August 1923 at half past five on a Friday morning.
In 1924 Fred and Laura Brooks decided to move back east to Ottawa. Like many pioneers, Alfred had tried his hand at many things during the years; fur trapper, miner, cattle rancher, hotel owner, rancher ... jack of all trades, master of none! As well, Fred and Laura had faced many annoyances and disappointments. The death of their twins, the droughts, the frosts, the grasshopper plagues, snow at threshing time, always mosquitoes, and the horse flies were terrible. The "civilized" nature of Laura's home town of Ottawa and the associated prospect of northern Ontario mining opportunities was too attractive an alternative to stay away from.
Fred left his old steamer trunk with iron handles with younger brother Joe. With everything else that he and Laura were taking with him on their trip to Ottawa he just could not take this favorite trunk that he'd had with him from his days in Saint John to his time at boarding school at St. Boniface College. The trunk was now full of all of his school books and the intent was to get it back at some time. (It seems though this never happened and the trunk was left in the attic of the Joe Brooks' house in Fahler when they moved out.)
Alcohol consumption was very common among the pioneers. Aimé, Otto and Joe were well known to partake at most any opportunity - especially when they went into town for any errand. A very good time was then had by all. (Although Fred drank on occasion, he did not indulge to the degree of his brothers.)
An interesting footnote from (page 296) of the book Where the Cold Spring Flows; "On Oct 6, 1931 while on a hunting trip with Joe and Aime Brooks and John Chenoweth; Aime accidently shot John Chenoweth in the hip, mistaking him for a moose. " It seems the boys had been indulging at the time. It's said that two of the Brooks boys met their wives as a result of their frequenting of the hotel bar. Their wives-to-be worked across the street in the hotel and gradually over time the acquaintance turned into a courtship. However once married, the women read the riot act to the men after a drinking binge, and they would settle down, at least for a while.
Pioneers called the Mounties "bulls" as they forever haunted the moonshiners ferreting their stills and destroying their hooch.
There is an old saying:
"If you ever drink out of the Peace River you will always return."
Fred and his son Hubert Brooks never returned.
Laura, Fred's wife, and Doris Brooks Gendron did separately return years later for a visit (see Section A12).
---
The Life and Times of Hubert Brooks M.C. C.D.
---
Copyright © 2011, 2012, 2013, 2014, 2015, 2016, 2017, 2018, 2019, 2020, 2021, 2022, 2023 Ralf Brooks, All Rights Reserved