The Life and Times of Hubert Brooks M.C. C.D.
A Canadian Hero
---
APPENDIX A – EXTENDED BROOKS FAMILY GENEALOGY
A.16.0 The Aimé Brooks Family Line
This CHAPTER will focus on what is known concerning the Aimé Brooks Family Line.
GENERATION 7
Hubert (Rousseau) Brooks
(b. October 4, 1862)
(d. January 23, 1930)

(m. January 7, 1884) wife:

Marie (Grégoire Rousseau) Brooks
(b. November 03, 1867)
(d. September 3, 1944)

GENERATION 8
(Joseph) Alfred Brooks
(b. Feb. 18, 1891)
(d. May 13, 1944)
Joseph (Albert Antoine) Brooks
(b. Dec. 20, 1901)
(d. Jan. 8, 1982)
Otto (Hubert) Brooks
(b. Nov 10, 1903)
(d. Oct 26, 1969)
Aimé (Hubert) Brooks
(b. May 17, 1895)
(d. Jan 15, 1952)
Marie (Theodora) Rousseau Brooks
(b. Sept. 25, 1887)
(d. Aug 8, 1970)
Marie Eugénie Nelida Brooks
(b. Jan. 12, 1885)
(d. Oct 12, 1937)
Siffroid Rousseau
(b. Dec. 25, 1884)
(d. ?? 1892 to 1910)
Marie-Anne Séduile Juliette Brooks
(b. Jan. 5, 1893)
(d. Jan. 6, 1893)
Aimé (Hubert) Brooks
Baptised Joseph Hubert Didacius Adalbert Brooks
(b. May 1895)
(d. Jan 21, 1952)

(m. Sept 21, 1921) to wife:

Mary Anne (Mame) McGinnis
(b. Feb 14, 1892)
(d. Oct 1, 1971)
GENERATION 9
Wendall Francis Brooks
(b. June 12, 1922)
(d. May 2, 1952)
Marguerite (Margaret (Mary) (Peggy)) Brooks
(b. Sept 6, 1924)
(d. )Feb 12, 2023
Helen Brooks
(b. June 12, 1927)
(d. 1976)
Wendall F. Brooks
(m. 1946-1947) to wife:
Marie Thérèse (Terri) Chevalier
Marguerite (Margaret) Brooks
(m. Feb. 1945) to husband:
William Trute
(m. Feb. 1963) to husband:
Lawrence Thacker
(m. Feb. 1987) to husband:
Harry Wallis
Helen Brooks
(m. 1947) to husband:
Gilbert Fischer
GENERATION 10
Joseph Brooks (b. ~1947) (d. 48 hrs after birth)
Myra Brooks (b. June 9, 1949)
Linda Brooks (b. 1951)
Elizabeth Trute (b. )
Colleen Trute (b. )
Gwendolyne Trute (b. )
Beverly Trute (b. )
Brenda Trute (b. )
Christine Marie Thacker (now Angelucci) (b.1964)
William John Thacker (b. ) (d. shortly after 5th birthday)
Ramona Fischer(b.)
Debbie Fischer(b.)
Gordon Fischer(b.) (d. around 15th birthday)
The Aimé Brooks Family Story
On May 10, 1916 Aimé completed the paperwork for initial filing for a HOMESTEAD on NE8-80-1-W6 - south of Old Bluesky. (see filing document in next section A16.1.1)
Filing documents (next section) indicate that for an unknown period of time prior to May 10,1916 Aimé had resided in Peace River.
Aimé formally became a Canadian citizen - obtaining his Certificate of Naturalization on 14-August 1917.
Aimé interrupted his homestead farming activities from 14-June-1918 to 25-June-1919 enlisting and serving in the Canadian Army during the later portion of WW I. (see section immediately below)
After being demobilized from the Army on 25-June-1919, Aimé returned to Old Bluesky to stay with his father. Aimé had leased out his NE8-80-1-W6 homestead land for a grazing lease in 1919.
In 1920, Aimé broke 30 acres on his homestead property. He continued to have livestock on his property from a grazing lease.
The 1921 Canada Census ( circa June 1921), had Aimé living with brother (Al)Fred and Fred's wife Laura at their farm in Fairview Municipality at Section Number:SW 17 (just south of Bluesky). Aimé's occupation was listed as a farmer. He was single and 26 years old.
Between 1-May-1921 and 1-Nov-1921, Aimé built a 18 ft by 20 ft Log Cabin and a stable and dug a well on his property. Between July and November 1921, Aimé resided on the homestead and cropped 30 acres. Also in 1921 Aimé filed documents for an adjacent homestead property NE-18-80-1-W6 ( see Section A.16.1.2).
Aimé married Mary Anne (Mamie) McGinnis in Dunvegan Alberta (located approximately 26 kilometres (16 mi) south of the town of Fairview on the northern bank of the Peace River at the mouth of the Dunvegan Creek) on Sept 21, 1921. Mame was originally from Council Bluffs, Iowa USA.
Mamie can to Canada about 1910 following the Grand Trunk Railway. Around 1913 she was trained as a nurse at the Edmonton General Hospital. She was of Irish descent and always had a hearty laugh. She cared for and cured many of the sick families through the district. Mamie also worked in Whitelaw.
Proud Poppa Aim&eacute holding baby Wendell at 3 &frac12 months old.
Taken at the Homestead in Bluesky Alta Circa 1922
PHOTO Courtesy: Margaret (Brooks) Wallis
The couple had three children:
Wendell (b. June 12, 1922)

Marguerite (now Margaret Wallis), (b. Sept 6, 1924)

and Helen (eventually to become Helen Fischer) (b. June 12, 1927).
While in Bluesky Aimé seemed to be capable of doing most anything - but he never seemed to stay with any one thing for any length of time. Previous sections have discussed Aimé adventures in fur trapping and cattle with brother Fred, but at other times he was more of a handyman/tradesman finding work from time to time in a variety of activities ranging from carpentry, to building homes (for example Tom Maston's home located 1.5 mi N and 1 mi east of the Brooks' homestead),cutting raftors, building granaries, helping with doors and windows. He also cut hair, took to butchering meat and loved to draw and paint. Aimé often took the package from a box of cigarettes, turned it inside out, and do an exact drawing caricature of a person. He was an artist whose related family remembers oil paintings he did of a Fisherman in Boat with boy and the Last Supper. It was perhaps his drawing and building planning skills that later led to his life's vocation.
He spent quite some time " at the office" with Otto down at the Brooks Hotel.
His daughter Margaret rembers him as a bit of a playboy, loving to dance and party.
Times were tough though in the Bluesky area -- Bluesky itself consisted of a hotel (Brooks Hotel), a store, a garage, a post office and a grain elevator.
Aimé Brooks ENLISTS WITH ARMY NEAR END OF WW I
Towards the end of WW I, Aimé was inducted into the First Depot Battalion, Alberta Regiment of the Canadian Expeditionary Force (C.E.F.) as a Private (Pte.) (Regimental # 3213189) on January 14, 1918.
Aimé was sent overseas to England where he briefly served with the 21st Canadian Reserve Batallion Alberta.
Monday, February 11, 1918

CALGARY DAILY HERALD

Headline: 1st Depot Battalion leaves Calgary

Depot battalion sends its first draft from city
General R. A. Helmer sees Men Away and Praises Training
There have been many records established in Calgary in connection with the expeditious manner in which troops have been put through their initial training, but it has remained for the First Depot battalion to take the lead in this respect. Some time ago if one had remarked that ere long men who have hardly been in training for more than four weeks would leave for an " unknown" destination; it would perhaps been treated as a jest. Such, however, has been the case with a large draft that left the city yesterday from Lieutenant-Colonel Phil Moore's Battalion.
The men were in charge of Captain W. E. Trueman, who originally was second of "B" company of Lieutenant-Colonel Nasmyths battalion. The other officers were Lieut. J. Clarke, Lieut. J. F. Scott, Lieut. H. E. Price, and Lieut. H. W. Pearce.
The men received a rousing send off and among those that witnessed the departure was General R. A. Helmer, acting director of training under the Military Service Act.
Fine Compliment
In the course of an interview with The Herald after the men's departure, General Helmer expressed himself particularly well pleased with their appearance. "I have never seen men of better Physique," he said, with much enthusiasm; "or such fine, proud looking young men. Personally, I am eminently satisfied with the men, and I am sure that they will be a credit to the city and the whole of Canada."
Speaking generally, General Helmer said that the training was being carried out very well in connection with the draftees all over Canada, although there was a great scarcity of instructors owing to the number of officers going overseas.
However Aimé went deaf in one ear and had problems hearing to be effective in a forward position so he was sent back to Canada. (Apparantly for one reason or another, a number of the soldiers developed hearing problems and were sent back home.)
Aimé was demobilized on 25-June-1919 S.O.S. - Struck off strength (of a unit) - when a soldier ceases to be a member of a unit because of transfer or injury.
Aimé obtained his Class G Discharge Certificate No. 20159 on June 25th 1919.
PHOTO of Aimé with his Regiment taken Overseas in UK during WW I, Unknown Date
Aimé is located back row to the far left (beside the X)
PHOTO Courtesy: Margaret (Brooks) Wallis
As a result of his service in the Army during WW I, Aimé obtained a Certificate No. 6867 from the Soldier Settlement Board dated August 29th 1919 which allowed him to complete the purchase of his NE8-80-1-W6 homestead obtaining the land patent on 22-July-1926 as well as purchase an adjoining homestead NE18-80-1-W6 which he used for agricultural and livestock grazing purposes.

Eventually circa 1928 Aimé found the need to move the family to Meota Saskatchewan as he found a job working on a grain elevator.

After the job was completed in Meota, circa 1930, the family returned to the Peace River area where Aimé found a job working at a grain elevator.

Aimé still had time to have a good time with brothers Joe and Otto - and alcohol consumption usually followed. One story (page 296 from Where the Cold Spring Flows); On Oct 6, 1931 while on a hunting trip with Joe and Otto Brooks, Aimé accidently shot John Chenoweth in the hip, mistaking him for a moose!" Enhanced alcohol consumption was very common among the pioneers.

Just before World War II (circa 1939) Aimé moved to Prince George as he found a job working on the building of a major bridge. Amié joined the Army in Prince George and the Army moved him to Prince Rubert.

During the war Aimé (who liked to go by the nickname "Bert" - abbreviation for Hubert as he was not fond of the name Aimé) was with the Army's Royal Canadian Engineers and was located in Prince Rubert.

PHOTO of Aime Hubert (aka "Bert") Brooks taken in Prince Rupert during WW2
PHOTO Courtesy: Margaret (Brooks) Wallis

Aime standing tall in the front right of the Picture Facing Camera.
PHOTO Taken at the Sergeants' Mess in Prince Rupert in 1942
PHOTO Courtesy: Margaret (Brooks) Wallis

After the war (circa 1945) he located the family in Kamloops building VLA Homes for the veterans. Aimé was very adapt and was known as a " blueprint man".

Circa 1948-49 Aimé moved the family to Vancouver.
Daughter Margaret comments that her father unfortunately rarely talked about his family and never went back for visits or funerals after leaving the Bluesky / Peace River region.
Aimé Brooks & Mary Anne Brooks Passings
Aimé Brooks had a heart attack while in Prince George on a hunting trip with friends. He was brought down to Vancouver were he passed away the next day on January 15, 1952.
Aimé was buried in Mountain View Cemetery in Vancouver on Jan 21,1952 in location ABRAY/*/20/014/0008 (Abray Section, Block 20, Plot 14, Lot 8). The ABRAY section is one of the Cemetery's Fields of Honour and Aimé is burried in the Soldiers Section.
(See cemetery online index to locate Aimé and identify burial location. WEB LINK )
The Mountain View Cemetery Burial Permit confirms the date of death and the date of burial.
Aimé is buried in a section of the cemetery reserved for Veterans. Aim&eacute was apparantly drafted June 14, 1918 under the Military Services Act of 1917 and briefly went overseas for WW I with the Canadian Expeditionary Forces (C.E.F.Regimental Number 3213189), see WEB LINK but almost immediately returned to Canada as he'd lost his hearing.
Mountain View Cemetery Soldier's "Fields of Honour " Section
PHOTO Courtesy: Mountain View Cemetery
After Aimé died, wife Mamie moved in with her sister Winnifred (Winnie) in the Arlington Apts in Edmonton.
Mary Anne (Mamie) Brooks died in Vancouver at the age of 79 on October 1, 1971. As stipulated in her will, she is buried in The Gardens of Gethsemani (Surrey, B.C.) -- the only Catholic Cemetery and Mausoleum in the Lower Mainland BC.
The Aimé Brooks Family
Wendall Francis Brooks Family
PHOTO of Wendell Taken Overseas
(somewhere in England)
PHOTO though to be Spring of 1941
PHOTO Courtesy: Margaret (Brooks) Wallis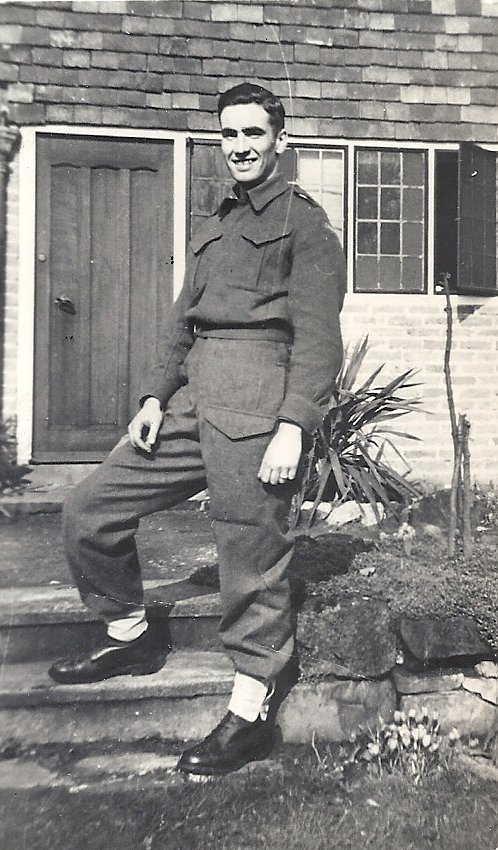 Wendell followed his father's footsteps and entered the Royal Canadian Engineers in January 1940 at the age of 17 and went overseas for the war. He was one of the early soldiers to enlist. He was quite the musican and singer and thought to pack his guitar with him to entertain his fellow soldiers while overseas. Wendall returned from the war in Sept. of 1945.
Following the war Wendall returned to Calgary, then to Kamloops and then Montreal.
(Wendall went back to Bluesky December of 1939 and he is "the soldier" most remember marching down the road from Bluesky to the Brooks homestead.)
In Montreal, Wendell married Terri Chevalier, a French-Canadian girl.
Their first son, Joseph, born in Montreal, tragically died 48 hours after birth. The "normal tradition" at that time was for babies to be born at home. Unfortunately Joseph was not given the medical help that a hospital might have provided.
From Montreal, the couple moved to Vancouver where Wendall found a job on the Vancouver Police Force.
Daughter Myra (b. June 9, 1949) was born in Vancouver. Unfortunately Terri spoke virtually no english and thus did not like the Vancouver environment. Terri longed to return to Montreal which the couple eventually did.
Second daughter Linda (b. 1951) was born in Montreal.
Terri (Therese) holding daughter Linda and Wendell holding daughter Myra
PHOTO though to be taken December 1951

PHOTO Courtesy: Margaret (Brooks) Wallis
Wendall died at the age of 30 on May 2, 1952 in Montreal while in surgery for a brain tumor. Dr. Wilder Graves Penfield, OM, CC, CMG, FRS the American born Canadian neurosurgeon was the operating doctor. (According to Wikepedia, during Dr. Pentfield's life he was called "the greatest living Canadian").
Wendall was buried on May 5, 1952 in Montreal in Notre-Dame-des-Neiges Cemetery -- the largest cemetery in Canada and the third-largest in North America.
Wendall is buried in Section M Location 03410, in the section of the cemetery reserved for veterans in the eastern corner of the cemetery. (Wendall's burial location can be found online at the Notre-Dame-des-Neiges web site by clicking on the WEB LINK and then clicking on " Locate a Deceased" and then entering BROOKS.
His wife Terri passed away 3 years later. The couples 2 daughters were raised by an "aunt" on the Chevalier side of the family. Unfortunately contact has been lost with the girls.
Helen Brooks Family
Helen married Gilbert Fischer in 1947. Gilbert was of German extraction. The couple had 3 children, 2 girls and a boy.
Ramona
Debbie
Gordon who unfortunately died around the time of his 15th birthday
Margaret Brooks Family
Margaret (Peggy or Peg) and Harry Wallis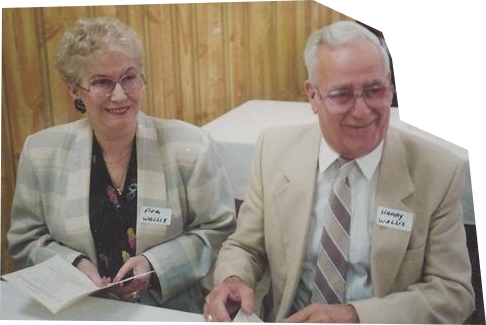 Margaret was to be married 3 times;
1st in 1945 to William Trute who tragically drowned;
Then in 1963 to Lawrence Thacker who died at the young age of 54.
Finally in 1987, at the age of 62, Margaret married Harry Wallis.
Margaret has 6 daughters and 1 son from her first two marriages.
From the William Trute marriage:
Elizabeth
Colleen
Gwendolyn
Beverly
Brenda
And from the Lawrence Thacker marriage:
Christine Marie (b. 1964)
William John (b. 1966) (d. 1972) who sadly died shortly after his 5th birthday. ( He is buried in The Gardens of Gethsemani cemetery in the plot of Marry Anne Brooks - see image above)
Margaret Wallis, (Margaret Mary (Peggy) Wallis), passed away peacefully Sunday morning, Feb 12 2023 in her room at Nanaimo B.C. Seniors Village. She turned 98 last September (2022) but insisted that she was at least 100 and that everyone was doing the math wrong. Over her lifetime she married three times and had seven children and numerous grandchildren and great-grandchildren. She was a strong minded woman and a strict disciplinarian but she was fair and honest. Her life was busy, having a large family to take care of, but she still had time to enjoy baking, dancing, sewing, crocheting/knitting, gardening, and shopping (especially for clothes). She was an early riser and hard worker. She always took pride in her appearance. As a young woman she worked in ladies fashion retail. She learned early how to sew and made many beautiful clothes for herself and her children. She always commented that she had 'champagne taste on a beer budget' but sewing helped to balance that out. She insisted on picking out her own outfits and wearing lipstick right up until her last days. RIP.
---
The Life and Times of Hubert Brooks M.C. C.D.
---
Copyright © 2011, 2012, 2013, 2014, 2015, 2016, 2017, 2018, 2019, 2020, 2021, 2022, 2023 Ralf Brooks, All Rights Reserved