The Life and Times of Hubert Brooks M.C. C.D.
A Canadian Hero
---
APPENDIX A – EXTENDED BROOKS FAMILY GENEALOGY
A.8 St. John N.D. Part 2
A 8.3 Social Activities & Departure
A 8.3.1 Hubert Brooks POSTMASTER for St. John & Commercial Club Member
According to the historical book "St. John, City at the End of the Rainbow", (see image below with header "POST OFFICE") at some point in time, Hubert (Rousseau) Brooks was also the POSTMASTER of St. John probably running the post office out of his General Store.

Volume 89 of the U.S., Appointments of U. S. Postmasters, 1832-1971 has Hubert Brooks appointed POSTMASTER of Saint John, Rolette, North Dakota on Tuesday, May 12, 1903.
U.S., Appointments of U. S. Postmasters in Rolette County, North Dakota, 1832-1930

| | | |
| --- | --- | --- |
| Name | Post Office Location | Appointment Date |
| Wm P Hutchinson | Saint John, Rolette, North Dakota | 17 Nov 1892 |
| Alfred Plante | Saint John, Rolette, North Dakota | 29 Nov 1893 |
| James Smith | Saint John, Rolette, North Dakota | 31 Dec 1897 |
| Hubert Brooks | Saint John, Rolette, North Dakota | Tuesday, May 12, 1903 |
| Alfred Plante | Saint John, Rolette, North Dakota | Tuesday, December 08, 1914 |
| William Schull | Saint John, Rolette, North Dakota | Monday, January 02, 1922 |
| Rolfe H Hesketh | Saint John, Rolette, North Dakota | Tuesday, March 21, 1922 |
| Rolfe H Hesketh | Saint John, Rolette, North Dakota | Thursday, March 25, 1926 |
| Rolfe H Hesketh | Saint John, Rolette, North Dakota | Tuesday, April 08, 1930 |
| | | |
| Joseph Plante | Laureat, Rolette, North Dakota | 14 Jun 1888 |
| Arthur Lemieux | Laureat, Rolette, North Dakota | 26 Jun 1897 |
| Joseph Plante | Laureat, Rolette, North Dakota | Thursday, September 06, 1906 |
| Emma Plante | Laureat, Rolette, North Dakota | Wednesday, April 29, 1908 |
| Eugene Plante | Laureat, Rolette, North Dakota | Wednesday, February 08, 1911 |
---
| | |
| --- | --- |
| HOWEVER a blowup of the original box around the Hubert Brooks name, seems to say " Order rescinded 27 July 1903". This would explain why the St John POst Office has no record of Hubert Brooks being Post Master. IF this was the case, the question might be WHY the order was rescinded. Interesting! Regardless, at least for a brief period of time, Hubert Brooks was the POSTMASTER at St. John and is so recorded in the official National Archives Records. | |
Hubert Brooks was also active in the local St. John Commercial Club with brothers-in-law Eugene Turcotte, Oscar Bolstad and Fred Plante and son-in-law Dr. John Warren.
The St. John COMMERCIAL CLUB was brought into being April 23, 1908 by Father Gauthier and Dr. J.G. Warren who were initial trustees. O.J. Bolstad was also elected an initial trustee. The Club was focussed on a number of projects directed at the betterment of St. John. The Club also undertook other projects outside of the town, for example undertook the action for developing Fish Lake.
H. Brooks was elected to the Committe on Race Track for the St. John Commercial Club May 28, 1908.
St. John N.D. Commercial Club December 1908

Source:St. John Herald Newspaper Dec. 10, 1908
Hubert Brooks' Horse Pickerel - St. John N.D.
" A dapple-gray horse named Pickerel, purchased by Hubert Brooks,
operator of a general store, could pace when in a runaway team,
and won its share of the races, even if it was nine years old. "

PHOTO & QUOTE Courtesy: Book:
St. John, City at the End of the Rainbow page 38

Hubert Brooks' Racehorse Pickerel Wins at Killarney
Grand Forks Herald (Grand Forks, ND); Wednesday, August 17, 1910; Volume: XXIX; Issue: 246; Page: 2

Thos. Ellison Livery Stable St. John N.D.
A 8.3.2 Brooks Family Social & School Activities
Nellie and Dora Brooks
Attend Faust Play in Rolla with
OJ and AJ Bolstad
Turtle Mountain Star Dec 10, 1903

Dora Brooks Singing at
Anna Cain China Shower Social
Turtle Mountain Star Oct 3, 1907

Jan 31 1909 Party at the Brooks' in St John
St John Herald Feb 11, 1909
June 1909 COMMENCEMENT at St. John Grade School
St. John Herald June 10, 1909

St. John School Dec. 1910 School Report
Showing Perfect Attendance
Turtle Mountain Star Dec. 8, 1910

Fred Brooks Intent to Attend LAW SCHOOL at Grand Forks N.D.
Sept. 22, 1910 Turtle Mountain Star newspaper article
The following "news" items concerning the BROOKS family and friends were in the St. John Rumblings section later changed to "Local News Told In Short Paragraphs" of The Turtle Mountain Star for the period 1910 and beyond. This newspaper was published once a week on Thursday.
(This is a continuation from the "news" items between between the period 1892 to 1910 contained in Section 6.1.6.)
It is interesting to see how the newspaper tracked the comings and goings of not only the people in Rolla but also in neighboring St. John and other local towns. Almost a gossip column! However the "news items" do provide a glimpse into the life in St. John and the surrounding area at that time.
DATE
The Turtle Mountain Star Newspaper NEWS ITEM
COMMENT
1911
Feb. 2, 1911
Mrs. F.X. Duchesneau died at her house in Russell Township on Wednesday January 25, 1911 aged 67 years. Mary Lucier born in Hyacinthe Quebec and married F.X. Duchesneau who survives her. About 32 years ago family moved to Lawrence Mass where resided for 4 years. In 1883 moved to Rollette. and settled on a homestead 4.5 miles east of Dunseith in present township Hillside. Here the family lived for about 15 years when they moved to a farm in Ruswell township. She is survived by here husband and 7 sons and 5 daughters.
Historical Obituary
Feb. 16, 1911
Eugene Plante has been appointed Postmaster at Laureat in place of his mother Mrs. Emma Plante.
March 2, 1911
Mrs. H. Brooks and Mrs. J.G. Warren entertained a few of their friends at cards Sunday evening in honor of their guest Mrs. H. Kyle of Rolla. At midnight a delicious lunch was served.
March 15, 1911
Misses Anna and Rena Plante and Marius Martineau attended the teachers examination at Rolla.
June 8, 1911
Mrs. H. Brooks and Mrs. Dr. Warren of St. John came down yesterday to call upon friends and were entertained at luncheon given in the home of Mrs. R.E. Rogas.
June 15, 1911
Dr. John Warren has decided to leave St. John and will locate in a growing city in the Canadian North west. He leaves this week for a 3 month medical course in New York City. During his stay in that city, Mrs. Warren will visit relatives in Montreal. Dr. Warren came to St. John about 8 years ago, fresh from college. Mrs. Warren has spent practically all of her life at St. John. Dr. and Mrs. Warren will be greatly missed by their hosts and friends.
See separate story image
Aug. 10, 1911
News received from Dr. and Mrs. Warren who are located in the northwest. They are doing well and enjoying prosperity.
Aug. 17, 1911
Mrs. A.J. Bolstad and daughter Annette arrived here Monday from Fort Benton Montana and they went to Fish Lake the same evening for a visit with Mrs. Dr. J.P. Widmeyer. Mrs. Bolstad will have charge of the 5th and 6th grades of our school the coming year.
Nov 2, 1911
Fred Plante going to lumberman's convention.
June 24, 1911
St John Day to be June 24th - same as St. Jean Baptiste day.
1912
Aug 4, 1912
Born to Mr & Mrs Eugene Plante of Laureat Sunday Aug 4, 1912 a ten pound son named Joseph after his grandfather.
Aug 15, 1912
Archie Brooks, a former well known resident of St. John died at his home at Wallace, Idaho, on Thursday Aug.7, 1912, of miner's consumption after an illness of two weeks.
See full announcement
in Section 2.
Oct 17, 1912
H. Brooks of St. John down on business
Oct 17, 1912
A. N. Bourassa left for Laflesche Alta (Editor's Note: Should be Sask. not Alta.) to visit his sons.
1913
May 22, 1913
Mrs. Emma PLante of Laureat left Thursday May 22, 1913 for Lowell Mass to see her sister Mrs Joseph Brunelle who is seriously ill. 1st meeting in 25 years.
May 29, 1913
A farewell party was given by some of Mrs. H. Brooks' old time friends at her home - about thirty five ladies attending.
See full article below.
June 12, 1913
Pickerel, the noted racing horse formerly owned by H. Brooks, has been purchased by T. J. Clifford and was sent to Cando Tuesday morning for training.
June 12, 1913
H. Brooks down from St. John he expects to leave Saturday for his new home at Laflesche Sask. where he is building a three storey 30 room hotel.
See full article below.
June 19, 1913
Mr. and Mrs. H. Brooks and family, and their niece, Miss Olive Gregoire left for LaFlesche Sask Monday evening (June 16,1913).
See full article below.
A 8.3.3 Departure From St. John 1911-1915
The first to announce his intention on leaving St. John was Dr. John Warren June 15, 1911. See Turtle Mountain STAR newspaper article to the right.

Dr. John Warren Announces Decision to Leave St. John ND
June 15, 1911 Turtle Mountain STAR Newspaper
Both the Brooks and their close friends the Plantes, the Foussards, and the Martineaus were to leave St. John over the span of a 4 year period.
According to Paul LeBlanc of St. John, an article in the Dec. 1911 Turtle Mountain Star newspaper, H Brooks store burnt in the first week of Dec. 1911 at 2:45 A.M. in the morning. Stock in the store was valued at $15,000.00 not counting accounts receivable.
Turtle Mountain Star Newspaper Articles Regarding Fires In St John ND
ARTICLE on LEFT -- Hubert Brooks Store Burns to Ground Dec. 1911
ARTICLE on RIGHT -- Hubert's Friend A.N. Bourassa's Store Burns to Ground in May

Images Courtesy: Historical Turtle Mountain Star Articles provided by Paul LeBlanc, St. John N.D.
Typical Ad Found in Weekly Rolette County Newspapers
Circa Late 1890s Early 1900s Advertizing Canadian West
One reason that the A.N. Bourassa General Store fire story was included alongside Hubert's General Store fire story, is that shortly after these fires both men (and their families) would end up moving away from St. John to LaFleche Saskatchewan.
It is not clear what event or events led the various extended Brooks families (Brooks/ Bolstads/ Warrens) to leave St. John, but since they by and large went to different locations in Canada and the US it would suggest that they were deliberately moving away from St, John as opposed to moving to some other specific opportunity.

Despite extensive land holding in Baxter and Hutchinson Townships of Rolette County, was the store fire the "trigger event" that prompted Hubert to look elsewhere, rather than build over? Perhaps the frequent advertisements appearing wekly in the local papers (see example at right) extolling the benefits of Canada's West finally caused the family to move to even greener pastures.
One potential factor was that oral history states that work was starting to get hard to find in St. John at that time -- so families would naturally move on -- making it difficult for merchants like Hubert Brooks and the Martineaus, making it difficult for a doctor like John Warren and also for a bank like the one in which Oscar Bolstad worked.

However to counter this argument, the book St. John, City at the End of the Rainbow notes that St John reached its peak of growth and prosperity in 1913 so the "mass exodus" is somewhat puzzling - especially for the Brooks clan who ended up in LaFleche Saskatchewan not exactly the bustling mecca of opportunity.

Did John Warren leaving first set the process in motion of looking for greener pastures?

Perhaps the Brooks clan saw potential growth opportunity in LaFleche? Had Alfred, after his St. Boniface College stint, scouted out new opportunities and talked up LaFleche? The reason for the move back to a frontier "starting-over" town remains unclear - especially when the family was so well established in St. John.

The family migration pattern of moving to an even more "basic frontier starting-over" location was the only consistent factor withg each successive family move. Grand Forks to St. John to LaFleche and finally to Bluesky.
The Rolla based Turtle Mountain Star ran this brief news item on May 29, 1913 on a farewell party for Mrs Marie Brooks.
And the same newspaper ran this brief news item on June 12, 1913.
The next chapter covers the eventual destination in Saskatchewan of the Brooks / Bolstad/ Warren familes. The Foussards were to move to Minnesota. The Martineau boys moved to the Twin City area and went to school there, 2 were dentists, and one a doctor. The Martineau girls also came. There clearly was an exodus from St. John.
As we will also see in the next chapter, the John Warren family was the first to leave in the summer of 1911, the Brooks men first tried to establish homesteads in Saskatchewan starting in summer of 1912, finally moving Monday June 16,1913 as per the Thursday June 19, 1913 Turtle Mountain Star news item shown below.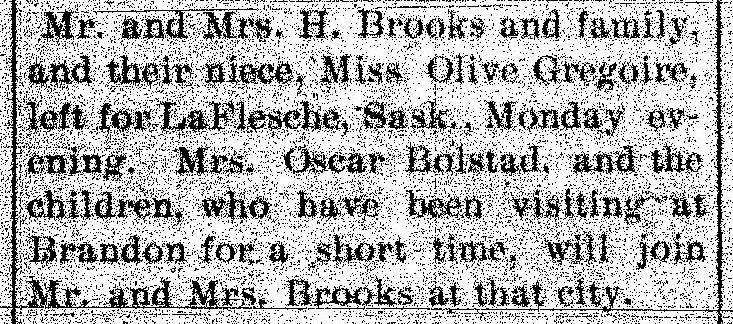 ---
The Life and Times of Hubert Brooks M.C. C.D.
---
Copyright © 2011, 2012, 2013, 2014, 2015, 2016, 2017, 2018, 2019, 2020, 2021, 2022, 2023 Ralf Brooks, All Rights Reserved